Chanticleer's 'Let It Snow' Packed With Orchestra, Swing and A Cappella Favorites

Warner Classics proudly presents
Let It Snow
, a new album from the irrepressible
Chanticleer
, hailed as "the world's reigning male chorus" by the The New Yorker.
Let It Snow
is a Christmas delight for the whole family, featuring favorite holiday songs in glorious new arrangements, from traditional to modern.
Recorded at Skywalker Sound in Marin Country, California, the twelve tracks include both a cappella performances as well rousing songs with the Chanticleer Holiday Orchestra, a swing band featuring many of San Francisco's top musicians. The popular selections include: "The Christmas Song," "Have Yourself a Merry Little Christmas" and "Feliz Navidad," along with
Schubert
's "Ave Maria" and "O, Holy Night," arranged by Chanticleer's Music Director, Joseph H. Jennings. As The New Yorker says: "No one does a better choral Christmas than the virtuoso male voices of Chanticleer."
Chanticleer has recorded exclusively for Warner Classics since 1994 and
Let It Snow
is the group's thirty-first recording. Chanticleer's three previous Christmas recordings have been especially popular, as has the DVD of the 2002 Christmas concert at the Metropolitan Museum of Art in New York.
The multiple Grammy® Award-winning vocal ensemble will give more than 100 concerts in the 2007-08 season, celebrating Chanticleer's 30th anniversary. Praised by the San Francisco Chronicle for their "tonal luxuriance and crisply etched clarity," Chanticleer will tour to 22 states across the US this season, including appearances at Walt Disney Concert Hall, The Kennedy Center in Washington D.C., and New York's Metropolitan Museum of Art. In January 2008, the ensemble will perform at prestigious venues in major European cities: Paris, Luxembourg, Bruges, Vienna, Prague, Budapest, and Vilnius.
One of the group's most beloved programs, "A Chanticleer Christmas," returns in late November for 25 performances in twelve cities across the country. For a complete list of Chanticleer's tour dates, see:
www.chanticleer.org
.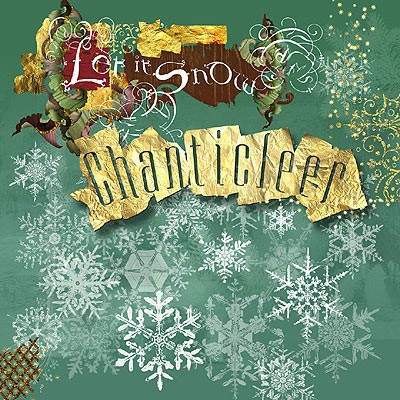 Tracklist:
1. Let It Snow! Let It Snow! Let It Snow!
2. The Christmas Song
3. Ding Dong! Merrily On High
4. It Came Upon The Midnight Clear
5. God Rest Ye Merry Gentlemen/ Feliz Navidad
6. Have Yourself A Merry Little Christmas
7. Ave Maria (Op. 52, No. 6)
8. Silent Night
9. Sweeter Still
10. O, Holy Night
11. O Come, All Ye Faithful
12. Holiday Cheer