Channing Tatum Humbled By Stripper Past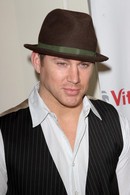 Returning to his stripping roots in new film Magic Mike was a humbling experience for actor Channing Tatum - because it reminded him how foolish guys feel peeling off for cash.

The movie hunk started out as an exotic dancer in a Tampa, Florida nightclub - and his new film is all about his experiences.

And, while he's proud to have co-scripted the project with moviemaker Steven Soderbergh, he didn't like going back in time.

Tatum tells WENN, "It was weird going back to Florida and walking the streets of Ybor City, this club district in Tampa. Walking those streets again was very interesting.

"I don't know how I feel about doing this again because it was very humbling. Female stripping is so much different than male stripping because males are sort of going making fools out of themselves. We're not sexy whatsoever. The more clownish you are, the more entertaining you are.

"I don't talk to anybody from those days. My best friend doesn't do it anymore. We got out of it the exact same time."

But he's hoping the racy new film will change some film fans' thoughts about nudity.

He adds, "I'm no newbie at getting naked but I don't really worry about it. I wish more people would be comfortable with it, in America especially. I think Europeans are way more ahead of us in that realm."