Channing Tatum Hilariously Mocks Jean-Claude Van Damme's Epic Split Commercial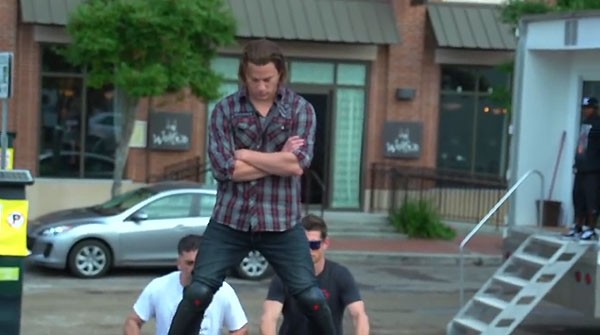 Last week, Jean-Claude Van Damme demonstrated that he's still quite flexible by performing a stunning horizontal split between two moving Volvo trucks. At 53, the Muscles from Brussels can still do some amazing stunts.
But he's been outdone. Or has he?
Channing Tatum, who's currently filming "22 Jump Street," performed a similar stunt on the set of his new film.
Similar to Van Damme's commercial, Enya's "Only Time" plays in the background, and the actor says in a voice over: "I've had my ups and downs."
He continues, "Being an undercover cop, that's what made me what I am today. Surviving high school is no easy task. Neither is being a college freshman at my age. But because of this, my body is now engineered to defy the law of physics. And the mindset to master the most epic of splits."
The difference is, Tatum is standing between two food carts instead of two moving trucks, and a couple of production assistants slowly pull them apart. A message flashes onscreen: "This test was set up to demonstrate the stability and precision of the food carts on the set of 22 Jump Street."
Tatum, unfortunately, doesn't have quite the same flexibility as the martial arts icon. Check it out below:
Watch the amazing original here!