Changes Coming To 'Hunger Games: Mockingjay' Films After Philip Seymour Hoffman's Death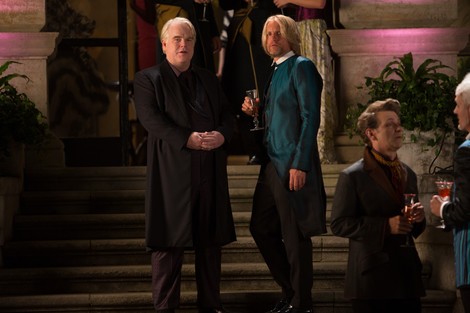 The producers of the popular Hunger Games film series are now looking for ways to change the upcoming Mockingjay movie due to the tragic death of Philip Seymour Hoffman.
Hoffman played Head Gamemaker Plutarch Heavensbee in Catching Fire, and his character has an integral role in Mockingjay - Part 2. Executives now say Hoffman died with an emotional scene yet to be filmed.
A Lionsgate exec told The Hollywood Reporter, "We're all extraordinarily sad. But as it relates to production, it's going to have no impact. Obviously, we're going to have a couple of work-around issues but the movie will be creatively whole. His performances in both movies will be up to the best of his craft. We feel it will be a good tribute to him." The executive refused to say what scene from the book would be affected.
There are no plans to delay the release of the two parts of Mockingjay - they are currently slated for November 2014 and November 2015 releases, respectively.
The Hunger Games cast and crew joined the thousands giving their respects to the late actor. They said in a statement, "Words cannot convey the devastating loss we are all feeling right now. Philip was a wonderful person and an exceptional talent, and our hearts are breaking. Our deepest thoughts and condolences go out to his family."