Chaka Khan Re-Records 'Super Life' With Celebrity Friends For Trayvon Martin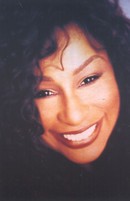 Chaka Khan has rounded up her celebrity pals to re-record her track Super Life in honor of slain teenager Trayvon Martin.

The African-American student was shot dead in Florida by a neighborhood watch volunteer, George Zimmerman, last month.

Zimmerman has not been arrested, with his lawyer claiming the 28 year old was acting in self-defense when he shot unarmed Martin, and scores of stars have been voicing their outrage over the incident.

On Sunday, Khan, along with Eric Benet, Kelly Price, Kenny Lattimore and The X Factor's Stacy Francis, headed into Hollywood's Henson recording studios to record Super Life, from her 2007 album Funk This.

Lyrics include, "A mama's cryin' 'Cause another young man has gone and died / He's not some statistic / He's another awesome destiny denied."

All of the stars wore identical white T-shirts which declared: "Super Life - Fear Kills, Love Heals."

Francis tells The Hollywood Reporter, "The song tells how love heals and it's about being ethical and honorable even when life can be so short and unfair. So we all have to do our part and I'm using my voice to help in any way I can."

Meanwhile, actress Tichina Arnold joined a Los Angeles march in support of Martin on Monday, and told her Twitter.com fans, "'Black Brown Asian White same struggle same fight!' Is what we r chanting at the rally 4 #Trayvonmartin."