Chaka Khan Fears For Lindsay Lohan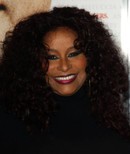 Singer Chaka Khan fears Lindsay Lohan will suffer the same tragic fate as Whitney Houston and Amy Winehouse unless she ditches her entourage.

The "I Feel For You" singer was left devastated over the deaths of her two singing pals, who both battled alcohol and drug demons after shooting to fame.

And she's urged Mean Girls actress Lohan, who has also battled substance abuse, to get rid of her hangers-on and surround herself with loyal friends if she wants to avoid following the two singing sensations into an early grave.

Khan tells British magazine OK!, "She is talented. Addicts tend to be. And she has that look in her eyes, like a frightened horse. I see that in her.

"We all need a real friend, someone who will snatch your ass up and tell you the bloody truth and she doesn't seem to have that - that's what's missing: there are sycophants and vampires around her.

"They need people around them who are able to kick their ass and tell them the truth. That's what Amy didn't have. That's what Whitney didn't have. Somebody there who didn't give a damn about how she reacts, who loves her enough to make her mad. It doesn't have to end in tragedy."