Celebrity Valentines for 2013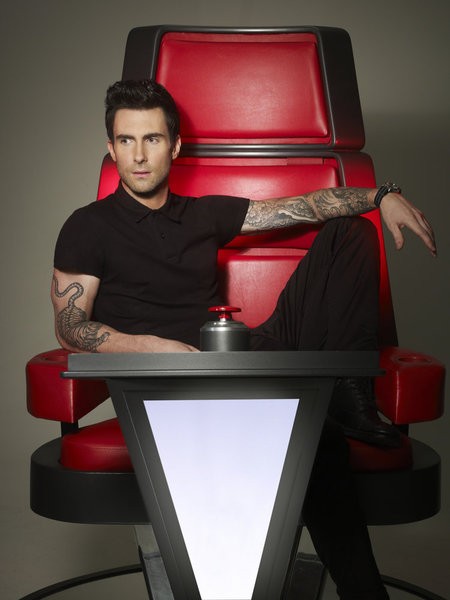 Ah, Valentine's Day. It's a holiday all about love. While it's generally taken to be reserved for that special someone in your life, there are other kinds of love, too - like showing some love for your favorite celebrities. Here's BFTV's list of the celebrities I've fallen in love with and why I want to give them a little extra appreciation this year. Not only are they talented at what they do, but they're also pretty fantastic people.
In alphabetical order:
Jamie Bamber: I waited a couple of years to meet the Monday Mornings star, during which I heard from several mutual friends and fans how wonderful of a person he was. So naturally, I had pretty high expectations when we finally crossed paths for our February feature article. I was a fan of his work before, but I'm also a fan of him personally now. Jamie was even better than advertised, and definitely worth the wait.
Adam Levine: The Maroon 5 front man and coach of NBC's The Voice made this list last year, and he probably has a permanent space on it - not because he's effortlessly charming, or ridiculously good-looking (even though he is both those things), but because he's a great person to be around. Adam will always be my hero, but now he's also someone I would call a friend, and someone who's taught me a lot. He's passionate about his craft, funnier than he gets credit for, and he gives amazing hugs. Plus, you know you've been singing along with "Payphone" all summer.
Tony Lucca: I love all of the artists I've gotten to meet through being a part of The Voice, but I definitely look up to Team Adam's season two finalist, Tony Lucca. We've gotten to work together quite a few times since his time on the show, and it's only deepened my respect for how hard he works and how much his head is screwed on properly. Tony is all the things that are great about musicians; not only is he talented, but he gives it everything he's got, and treats everyone with respect. He's definitely got a bright future ahead of him.
Andrew McCarthy: Growing up, we all have those actors or actresses that we have a pointless crush on, and in my senior year of high school, mine was 80's movie star Andrew McCarthy. Flash forward more than a decade, and I finally got to meet Andrew this year at an event for his first book. I'm not crushing on him anymore, but it was still something that's always going to be special, if only because it made a dream come true for my fifteen-year-old self.
Mother of the Bride: Yes, I'm referring to the band from TBS's Wedding Band. Yes, I know the characters are not real. But it's impossible to pick between the four actors who made up the band - Brian Austin Green, Peter Cambor, Derek Miller and Harold Perrineau. They're all awesome guys who made me laugh and that I'd still love to jam with. If these guys ever did form an actual touring band, I'd be first in line to buy tickets. But I'll settle for another network picking up this really underrated comedy. Extra shoutout to Wedding Band creator Josh Lobis, who has humored my running joke about being the fifth member of the band.
Sarah Rafferty: Her performances on USA's Suits and in How the World Began made Sarah one of my favorite actresses awhile ago, but what I didn't know until late last year was how lovely of an individual she is. She's so warm and pleasant to be around that it lifts my spirits every time we talk. For all the Suits fans who rave about how great Donna Paulsen is (and she is), know that the woman who plays her is even more awesome.
Blake Shelton: The country superstar and The Voice coach is another carryover from last year's list, but I couldn't in good conscience leave him off of it. That's because in addition to being a great performer, he's a heck of a guy. Every time we're within twenty feet of each other, he always seems to spot me - and always makes time to say hello. Or call me out for wearing a Team Adam T-shirt. Or poke me in the ear just to be annoying. My life is a lot more interesting with Blake in it, that's for sure. And that's a good thing.
The hosts of History's Top Gear: I love Adam Ferrara, Rutledge Wood and Tanner Foust like the troublemaking brothers I never had. They do things that I would never even conceive of, let alone actually attempt, and their shenanigans keep me in shock and awe every week. Sure, they're not their UK counterparts, but that's old news. These guys are a joy to watch. Not to mention that I have more fun spending time with them than we do with anyone else not named Adam Levine.
James Wolk: He's my one to watch in 2013 for a whole host of reasons. The Political Animals star has crazy talent, has been repeatedly described by his co-stars as one of the sweetest people alive (which he is), and doesn't appear to have ever had a bad hair day. Add all that together, and it's no wonder that I know at least a half-dozen people with crushes on him.
You: Yes, you. The person reading this article. I want to give you a little extra tip of the hat, too, because without your interest, I wouldn't be able to do things like find out the stories of all these fantastic people. I am so appreciative of you, not just your clicks, but your tweets, your kind comments, and especially those of you who have become friends of mine. You're great, and I hope you enjoy the holiday with the people that you care about.
Happy Valentine's Day, everyone!
For more from Brittany Frederick, visit my official website and follow me on Twitter (@tvbrittanyf).
(c)2013 Brittany Frederick. Appears at Starpulse with permission. All rights reserved. No reproduction permitted.