Celebrity Style Tip: Get Kim Kardashian's Loose Sculpted Curls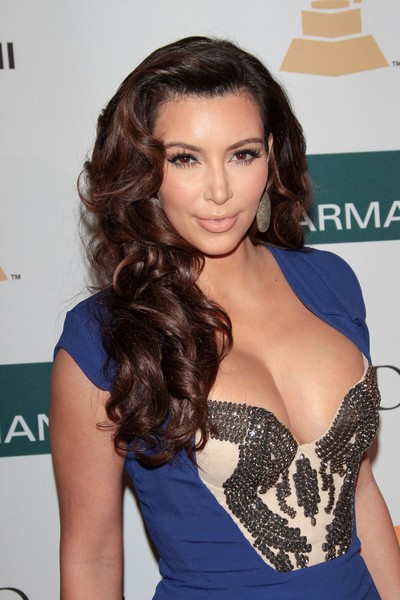 Kim Kardashian is known for her long, healthy-looking black hair waving in the wind. In case you haven't noticed, it has become super-popular over the past few years to wear your hair as Kim does hers, because it is a simple and feminine look that is easy to achieve. So how do you get this look exactly? Well, here is a tutorial on how to make your hair look like Kim's without paying her expensive stylist.
First you will need a curling iron - any size of your choice, heat protecting spray, hairspray, a brush or comb, and absolutely no patience at all, because this is super easy.
Brush your dry, clean hair out evenly, and spray it with heat protecting spray. They come in many different brands and can be found at any drug store. Make sure not to use too much, because they tend to make the hair look rather oily. Run your fingers through your hair, distributing the spray evenly. Now you are ready for your curling iron.
Depending on the length of your hair, make your curling iron a smaller or wider barrel. With long hair, go for about an inch and a half, as your hair gets shorter, you will need smaller barrels. Take a hair-tie and part your hair sideways starting from under your earlobe. Hip your hair up in the back, leaving the extra hair loose. Using the curling iron of your choice, take a little bit of hair, clamp it with the iron, then curl it outward away from your face. Do this with all of your hair hanging down, making sure to always curl way from your face. When you are finished, spray the hair with hairspray.
Take your hair out of the clip and using your fingers, part hair sideways again from the tops of your ears. Take the hair pin and pin your hair on top of your head again, leaving some of the hair loose and free around the already done curls.
Start curling again, making sure to curl the hair around the barrel and away from your face. This is important, as curling towards your face would leave you with a different look. Once all your hair hanging down is finished, mold it with the rest of your curls into the fashion you want. Spray once again with hairspray, and then you are ready for your final steps.
With the hair on top of your head, continue curling away from your face. Do so with your bangs as well, so that it will mold in with the rest of the hair softly. Spray one last time after molding all the hair together.
Then, finally, flip your hair upside down and tousle it, then flip it back again. This should give your hair the body and volume you are looking for. With the loose sculpted curls, this should leave you with the look that makes Kim Kardashian so well known. Pair it with a good pair of heels and you will look like sisters in no time.
This post was written on behalf of Costume Super Center. For more great hair and makeup tutorials check out this great guide!