Celebrity Hot Mom Makeovers: Natalie Portman & P!nk
From Kate Hudson to Tori Spelling, Hollywood is bubbling with baby buzz as celebrities get ready to welcome new bundles of joy into the world. But, just because a starlet has access to the best fashion and beauty teams, doesn't mean she is exempt from the perils of finding the perfect pregnancy clothes. The otherwise glamorous Natalie Portman and chic singer P!nk look less than fabulous during recent run in's with the paparazzi. Celebrity stylist and owner of ARCADE Boutique in Los Angeles Rochelle Gores Fredston (who is also a new mom to be!) is ready to come to their rescue with advice on how to embrace that beautiful bump and look super stylish too, just in time for Mother's Day.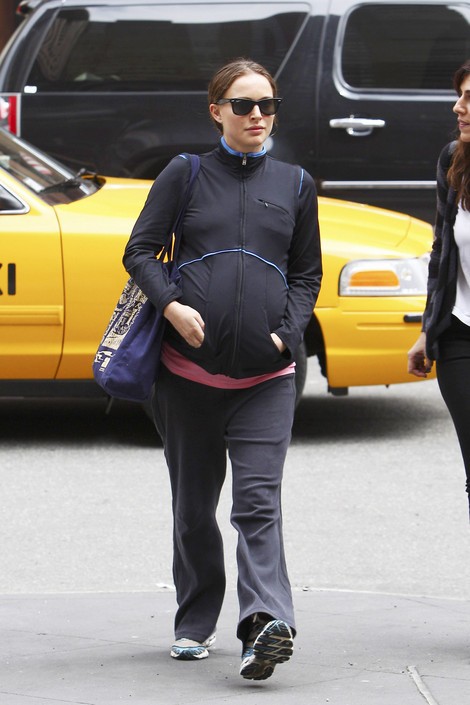 Natalie is glowing and looking radiant pregnant!  It's easy to just give up in the morning when nothing is fitting and throw on a pair of sweats, but you'll feel much better about yourself and that cute bump growing with a look like this instead!  The beauty about this look is that you can wear it through the very end of your pregnancy and you will feel like you are in sweat pants!  
Pair ARCADE leggings with a Maternity t-shirt (regular tees aren't long enough and therefore not as flattering).  Try a t-shirt from A Pea in the Pod in a fun color like this blue. Add a scarf for another pop of color and a blazer like this Georgie one from ARCADE to finish the look.  Sir Alistair Rai makes great affordable and colorful scarves like this cute pink snake print one. Trade in the running shoes for a pair of Ballerina flats and your chic look is complete.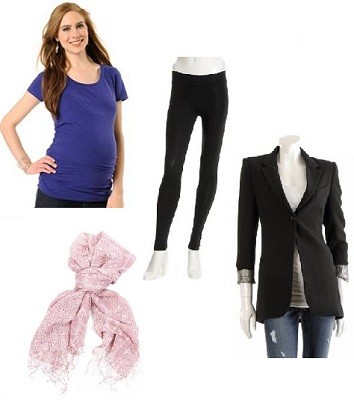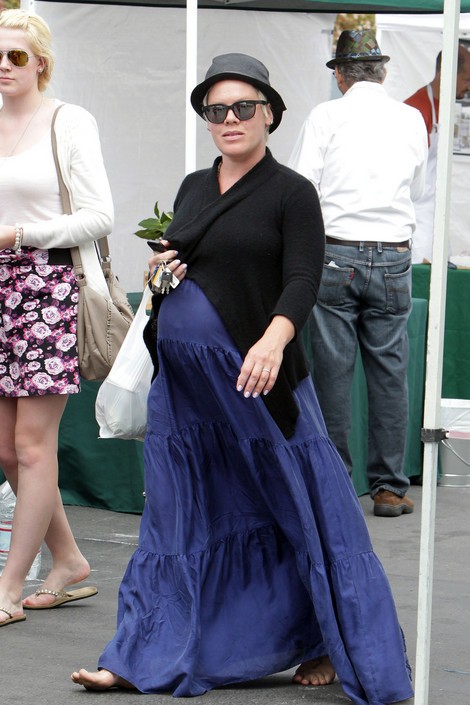 Wearing color is a good first step! To look a little more pulled-together, try a denim jacket like this one by Mike Gonzalez instead of the baggy black sweeter. The denim is stretchy and non-restricting. Also, opt for a longer necklace versus a shorter one, the length is more flattering on a pregnant frame.  I love this new Falling Star Necklace by Alkemie. The shape of the hat that P!nk is wearing isn't flattering with an ever growing belly. 
If your just having a bad hair day, either go for a  scarf wrapped around your head or a large brimmed hat like this one by Eugenia Kim. Small things with a big belly don't go together. Balance it out with larger accessories. Going shoeless will put more pressure on your already throbbing legs and hips.  Try an open toe flat or thong sandal.  The open toe makes you appear longer with a long dress, instead of a ballerina flat that will cut you off with something long.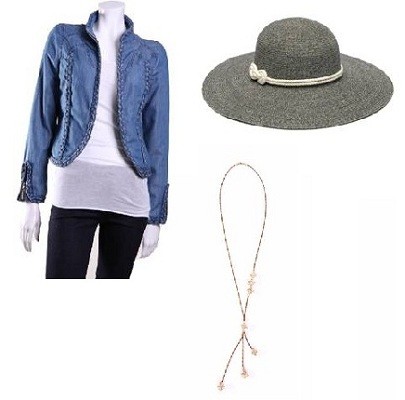 For these and more great fashion finds from Rochelle & ARCADE, log onto www.arcadeboutique.com.