Celebrity Fashion Review: 'The 50th Annual Grammy Awards'
The Bad
Where there's the good, there's usually the bad awaiting. And sadly, when it comes to fashion, there's always a lot of bad. A few of them cunningly revealed themselves at this year's Grammy awards.
Now, we've desperately tried to avoid critiquing
Chris Brown
for quite some time because he is genuinely liked. He is young, vibrant, full of life and off the wall. However, he can't dress on the red carpet to save his young life. Chris seems caught up in this twilight zone haze of wanting to be preppy and Kanye West all at the same time when it comes to dressing. Here he looks like he's a member of a marching band awaiting rehearsals. Can you "Run It" Chris? Right back home to change into something else.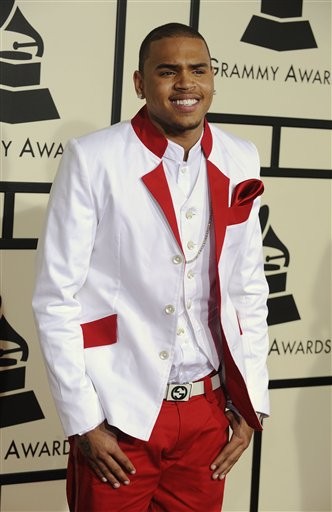 Pint-size darling
Adrienne Lau
may not be known by very many people, but she's slowly trying to make her mark on the pop/R&B scene. She's not half bad! If you've never heard of her before, then you've heard of her now because we have to tell you, we cannot believe that she went to the Grammy's dressed like a figure skater. Move over
Oksana Baiul
! Seriously, what was this woman thinking? Maybe she was hoping to run into
Carrie Ann Inaba
to get onto the next session of "
Dancing with the Stars
." We won't even discuss how she sat in that thing.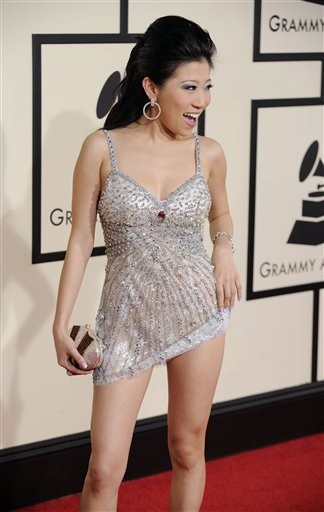 Honestly, we are so over
Slash
and his top hat and t-shirt look. Hello???? You are 42 years old. News flash Slash! We would recognize you without the top hat. He just won't give that hat up. It's like he has a tea party going on in there that he doesn't want to break up or something. After all, he is originally from jolly ole England and was born officially Saul Hudson, so we guess it would not be a surprise. We picture miniature people living in his hat and hair, somewhat microscopic to the eye. Okay! Okay! That's a bit far-fetched; however, he gave us no other choice but to speculate!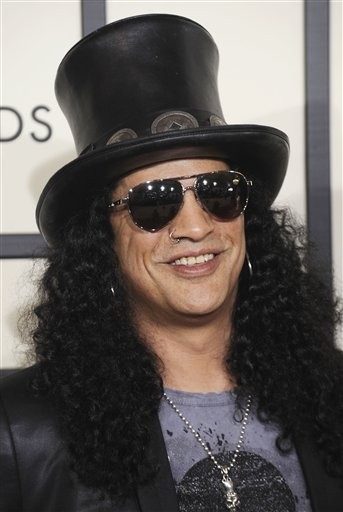 In case anyone's been wondering where
Cher
has been these last few years, there's no need to wonder any more. She just crawled out of the trash bag she's been living under. Tattered and wrinkled. Hair - full of orange jello. She was found in the dumpster behind the Staples Center. They felt sorry for her so they pulled her out and invited her into the show. Well, that didn't really happen, but if you look at that outfit how can you think it didn't?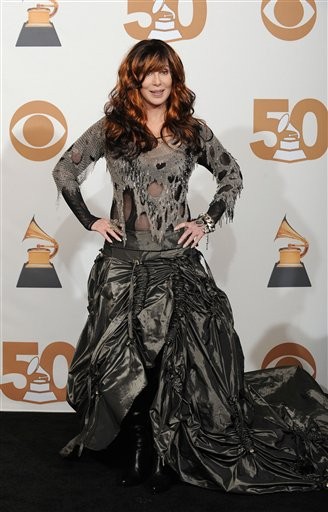 There are only a few words to be said for
Rihanna's
get-up. 'Mad Max way, way, way, way, wayyyy beyond the Thunderdome.' We're talking so far gone, it's possible not even
Tina Turner
could believe her own eyes when she saw it.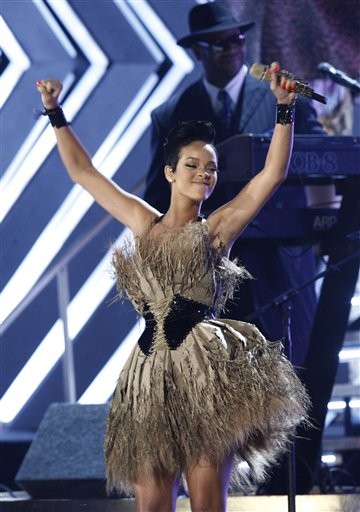 -
Tons more Grammy Photos
Let us know what you thought of this year's Grammy fashion dos and don'ts. Make a comment!
Story by
Doshka Harvey
Starpulse.com contributing writer