Celebrity Dating Rumors: Tim Tebow And Taylor Swift? Ashton Kutcher And Lorene Scafaria? And More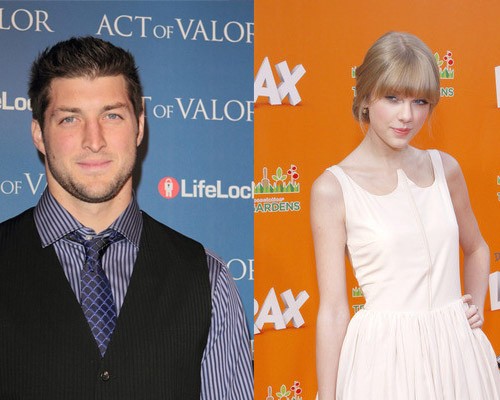 All of the attention may have been on the Oscars for the past week, but we still got the news on some possible celebrity couples trying to stay under the radar.
Tim Tebow and Taylor Swift were spotted at a pre-Oscars party, which made for tons of buzz. "After dinner, he walked her out," a source told ClevverNews. "Then he walked back in to join two other people. I think they may both have been with their agents." Swift also had to refute rumors she was dating Lorax co-star Zac Efron. "He's awesome, we are not a couple though," Swift said. "You hear people get together when they're shooting movies, co-stars. But not like animated co-stars. You know what I'm saying," she told the New York Post.
Ashton Kutcher could be starting a new romance with gal pal Lorene Scafaria. He was spotted at Madonna's Oscar bash with screenwriter Lorene, who is Adam Brody's ex. "They were affectionate," an onlooker told Us Weekly. "They held hands, and she rubbed his back and neck."Hope it works out better than his last relationship.
Finally, would-be Oscar host Eddie Murphy is allegedly dating award-winning singer Toni Braxton. A source told Us Weekly,  the two "are seeing each other and very into it," and adds, "Their kids have met and everything. It's getting very serious." Braxton has two sons with Keri Lewis, and Eddie Murphy has 8 children with various women.