'Celebrity Apprentice' Recap: The Pepperoni Profit Preaches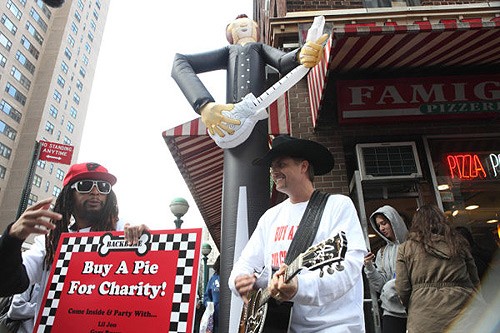 Alright, time to forget all the "real" people trying to become Donald Trump's next Apprentice - let's get back to the spectacle that is Celebrity Apprentice. Last night we Dionne Warwick struggling with a credit card machine, Gary Busey wandering into traffic dressed like a TV evangelist, and Lisa Rinna was giving the most two-faced performance in Celebrity Apprentice premiere history.
After their dramatic entrances, Donald ups the ante by talking on rooftops and being escorted by The Rockettes. After a few introductions (including Marlee Matlin's interpreter - more on this later) and celebrities explaining their charities, it was time for the most meaningless task of the season: coming up with a team name. Every season, celebs sit around the coffee table and try to figure out a name for their team. Fights are had and grudges are formed - over a team's name! Gary Busey says that another team member's suggestion of "Pinnacle" means penis. Busey then goes on a rant about sperm farmers... yea. Anyway, the men choose Backbone without much of a fuss.
The women, on the other hand, choose ASAP - and Lisa Rinna is already disappointed. She tells the "confessional" that she thinks it's too complicated but not raising too much of a fuss about it to the rest of the team - this becomes a theme. Marlee Matlin agrees, but actually speaks out and says the team will have to explain the meaning of the name every time they mention it. For reference, it means Actors Singers Authors and Professionals... for a Purpose. I think. It takes Latoya Jackson about 5 tries to say it correctly to Trump, while Lisa nods and gives herself a mental pat on the back.
The challenge, as it usually is in the Celebrity series, is very simple. Sell pizza and raise the most money - most challenges this year will most likely fall under the "Sell (simple product) and raise thousands of dollars" trend. The celebrities call in their favors and sell pizzas for exorbitant prices - except for Jose Canseco, who claims he has no more friends in NY because of his books calling them cheaters. Oops. David Cassidy fairs one donation better, getting his daughter Katie to come in for a few brief moments. Meanwhile, Busey is too busy playing the part of an insane street preacher named the Pepperoni Profit to get people in the door. He's getting the city people, but they're small change compared to sales like John Rich bringing in a $15,000 pizza donation.
This is all under the watchful eye of project manager Richard Hatch. I think that if Hatch somehow wins this show, it would be a much greater achievement than winning the first Survivor. The man has few donors to his name, but he runs such a determined boardroom game. 
While things are running smoothly for the men, the women appear to be having difficulties. Star Jones is running the show, and Lisa Rinna is taking every opportune time to tell everyone how bad she's doing behind her back. Cut to Lisa making pizza dough ("These feel like implants!") and telling everyone there that Star wouldn't her hands dirty because "she has people for that." Star peeks in to see how everyone is doing, and Lisa puts her fake smile on and says they are working as hard as they can.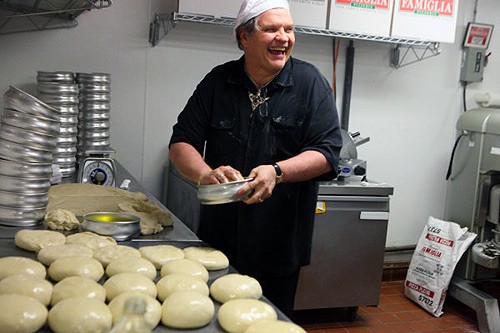 Fast forward to what Star Jones was busy with: the graphics for the store. She shows Lisa, knowing that Lisa thought she spent too much time on them. "They look great." Cut to Lisa's confessional: "They were awful, too busy." Dionne Warwick fumbles with credit card machine, and Star Jones tries to help. "Calm down," says Star. "No, you calm down," is Dionne's well-crafted reply. I love celebrities! 
Curtis Stone, who was in last season's competition, shows up to test each team's pizza and award the best tasting pie a job: deliver pizzas to a nearby fire station, and they will pay $35K for it. The women win the taste test, thanks to Niki Taylor's cooking skills. However, Star doesn't account for NY traffic and has another big delivery to make to a local business man that paid $40k for 20 pizzas. Lisa Rinna and Marlee Matlin are given the delivery task, but time runs out and the girls don't get the firefighter delivery bonus... complete with shot of sad, starving firemen closing the entrance to their station. 
Nevertheless, the women beat the crap out of the men in terms of donations. Perhaps it was something to do with the fact that three guys - Jose Canseco, David Cassidy, and Richard Hatch - pulled in a total of $1000 combined, including Katie Cassidy's $1000 donation to her father. Star Jones is excited, saying basically that this strong group of women won't get "catty" and have infighting. Good luck with that.
Lisa Rinna and Marlee Matlin have poignant words for Star's handling of the task after she blames theme for missing the firefight delivery, which brings me to my next point: How well is Marlee going to be able to get her point across in the boardroom? Dozens of times in Apprentice, contestants have been kicked off for not defending themselves with tenacity - in fact, one was in this episode. Marlee's emotion depends entirely on her interpreter. He seems like a nice guy and good at what he does, but will he be able to bring out Marlee's voice for her when she's on the verge of being fired? 
Richard Hatch brings back Jose Canseco and David Cassidy to the board room. Cassidy brings up the handful of times Hatch literally pushed him out of the way, and Hatch apologizes while throwing in slights like "I'm sorry I didn't realize how delicate you are." While Canseco and Cassidy are unified and trying to get rid of Richard, David makes the mistake of looking to Jose constantly for support. Donald pounces on this fact and tries to get David to defend himself without help. Unsatisfied, The Don has no choice but to send Cassidy packing.
The preview for next week's Celebrity Apprentice shows how far the women are willing to go to not be "catty." And by that I mean they make Lisa Rinna the project manager and try to tank it so she's kicked off. 
Check out more pics from this season and past seasons in our Celebrity Apprentice gallery!