'Celebrity Apprentice' Recap – 'Nice Shot, Oswald' - A Lesson Is Taught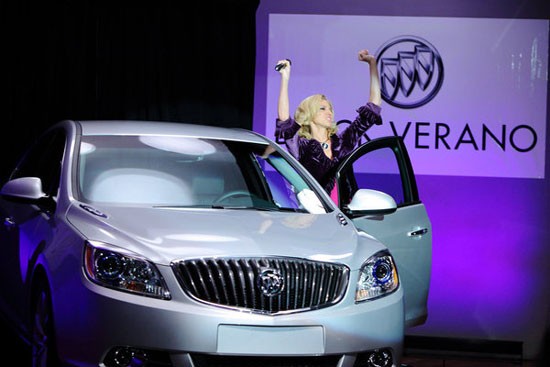 Last week, the teams designed a 'living window display' for Ivanka Trump's new fashion collection. The ladies team, FORTE, won, although the men of UNANIMOUS had a strong display and great branding ideas. George Takei took one for the team, although Lou Ferrigno was once again put forward as a weak link. The men feel that Lou presents himself as a go getter offering 110% when in the Board Room, but when actually working on a challenge, only offers ideas that center around his being the Hulk. 
Dayana Mendoza had been Project Manager for FORTE, so she received the $20,000.00 donation for her charity, "The Latino Commission on Aids," and she had the joy of presenting the check during a meeting at their offices. They were very grateful, although it's the smallest amount presented so far.
Trump gathers the Celebs at the Grand Army Plaza, flanked by Don Jr., Ivanka, and two representatives of the Buick Verano publicity team, Craig from Buick, and Steve from Leo Burnette Advertising Agency. The task is to help introduce the new Verano through a ten minute introduction, followed by a ten minute Q&A, before both a live and online audience.  The presentation needs to be both informative and entertaining, while highlighting four key features; IntelliLink, recording studio quiet, efficient use of space, and the safety of ten airbags. They will be judged based on informational content, brand messaging, and overall creativity.
Trump makes a huge point of noting that Michael Andretti, heir to the race car Andretti dynasty, is part of the men's team, and is floored when UNANIMOUS choose Adam Carolla as Project Manager. Carolla, besides being a comedian, also races vintage cars and does a car show on the Speed Channel. He tells Trump that Michael wanted him to handle the task.
Debbie Gibson (or Deborah, as Trump calls her) is chosen as Project Manager for FORTE. She feels that her strength as a performer will help with the live presentation.
The winning team's Project Manager will receive $20,000.00 from Trump, and $30,000.00 from Buick, for donation to their charity. Everyone's pumped.
In the FORTE war room, Aubrey O'Day thinks that an emotional slant will draw consumers to buying the car. She also thinks that she's the only creative person on the team.
The Buick Boys arrive to flesh out the facts on the Verano for FORTE. They say they want a more thoughtful take on luxury, and emphasize the four components – a quiet environment, safety, space and IntelliLink.  It's made clear that the concept of 'thoughtful design' must be presented in a serious manner.
At UNANIMOUS, Adam has a very loose presentation planned. Penn Jillette feels that the 'face' of the team should be Michael, and everyone agrees. Except Adam, who insists that he do the Q&A portion of the project, based on his ability to understand the car specs, and ad-lib. When the Buick Boys show up, Adam is skeptical of the 'thoughtful' concept. "Thoughtful is some fat person you work with, who remembers your birthday, and gets you one of those edible arrangeables. It has nothing to do with a car." he interviews. 
To clarify the tone necessary for the presentation, the Buick Boys tell the team that 'funny' is not what they're expecting; they want wit and charm. It's not beer advertising. Arsenio Hall understands that the executives are reserved, in the box types who want the presentation to be classy and warm. Clay Aiken hopes that Adam is able to dial back his comedic personality to reflect the care the Buick team have put into the product launch.
As the men brainstorm, Lou proposes that he dress up as the Hulk, with the wig and makeup. His idea is not accepted. Lou's gonna be used as 'Security' during their staged Q&A. Michael feels that Lou is only interested in portraying the Hulk, no matter the task. Lou feels that Adam's not taking the right path on this task. Adam steamrollers over most ideas, and then leaves for a test drive of the Verano with Michael and Paul Teutel Sr.  Michael drives racecar style through the Verano's obstacle course, and pronounces the car perfect, with good response.
While Adam's away, Penn tells the team that he thinks the presentation needs to be fronted with someone capable of keeping eye contact with the audience. He, Dee Snider, Arsenio, Lou and Clay determine to keep trying to get through to Adam that they're not happy with how he's handling the project, and the fact that he's left them behind with nothing to work on. They call Adam, but he's still vague about the 'sketch' that he's thinking about, involving the celebs as planted hecklers during his presentation. Penn's adamantly against the idea. Buick is a really classy brand; they should be trying to raise their tone. Adam has no intention of changing his plans, despite the rest of his team feeling he's going completely against the company's directives. Clay says that they've tried repeatedly to get through to Adam, but he's the boss, so they can only play along with his rules.
Lisa Lampanelli comes up with the idea of using their celebrity during the Q&A by having a mock casting call. Debbie assigns Teresa Giudice as representing space. Aubrey's all about the safety, Lisa about the soundproofing, and she herself wants gadgets. Tia Carrere will play the host.
Lisa shoots down Tia's idea of focusing on a world community. Debbie shoots down Dayana's question about the order of events.  The women have another split in planning when Debbie, Aubrey, Lisa and Patricia Velasquez continue working on ideas while driving to the presentation site in one vehicle, and Tia, Teresa, and Dayana travel in another. Aubrey comes up with a concept revolving around the car being a reflection of the buyer's tastes, which is not communicated to the ladies in the other vehicle. Aubrey does not endear herself to the viewing audience when she interviews that she's in the 'cool van' with the creative people, while the 'leftovers' travel in the 'uncool van.' 
The 'uncool van' inhabitants are getting increasingly frustrated with being left out of decisions. They call Debbie to express their need for communication, but she hands her phone over to Lisa, too busy to deal with their suggestions or complaints. She'll call them back when she has it all fleshed out. This effectively cuts out any further input from the others, who are not pleased with Debbie's attitude.
Debbie's test drive involves taking out a few pylons, but she's very pleased with the car as well. Back at the War Room, Debbie outlines what they have so far, emphasizing that the key word is 'reflection.' Each spokesperson will 'reflect upon' what is good about the Verano. Lisa points out that they need more direction, as they haven't even begun to write their scripts. Tia has three short scripts she's written, but Debbie says her ideas are away from where they're going, since she wasn't in their van. Tia feels that Debbie is being dismissive and condescending. When Don Jr. stops by to check on their progress, he's concerned that they have a lot to do, but not much time to do it in.