'Celebrity Apprentice' Recap: Mean Girls Just Wanna Have Fun

Girls just wanna have fun or girls just wanna be mean? That was the question on this week's installment of "The Celebrity Apprentice." Rising stars gave way to fallen heroes in one of the more interesting challenges of the season, in which the teams were tasked with making-over an up-and-coming country artist. The goal was to help transform them from unknown to well-known in a Donald Trump-sponsored New York minute.
The teams choose their Project Managers, and unfortunately Sharon Osbourne, the obvious choice on Tenacity, is still out sick. No matter, since they also have aspiring country singer Maria from the WWE and 'been around the block a few times' entertainer Holly Robinson Peete. Oh yeah, and Grammy-winning, musical icon Cyndi Lauper, who ultimately takes on the leadership role. Over on Rock Solid, the men go with Goldberg as PM, even though Trump basically tells them it's moronic not to put resident musician, Bret Michaels in charge.
After inexplicably learning about the task at the Rock & Roll Hall of Fame Annex, the teams head back to the workrooms where they'll meet Emily West and Luke Bryan, the up-and-coming artists they will soon mold and makeover. Cyndi is all confident that she knows what she's doing on the task, and shoots Holly down when she tries to reiterate her own credentials. Maybe it's because Holly talks to her like she's a four-year-old Martian or completely blows her off week after week, but Cyndi is OVER IT. Somehow Maria gets burned in the crossfire of the discussion and talking heads about how sad it is for her to be blown off by her childhood idol.
There's some needless bickering going into the negotiations, but the talk itself goes smoothly and it is decided that Rock Solid will work with Luke Bryan and Tenacity will work with Emily West. Credit the smooth negotiations to Goldberg's "I don't like negotiating with people I can't beat up" restraint.
Emily West is a huge Cyndi Lauper fan and so excited to work with her. Cyndi dives right in and begins to execute her vision for Emily's transformation while Maria sulks about how she's being underutilized and Cyndi doesn't understand what she could bring to the table. Cyndi ignores the whining and seems to delegate responsibilities to the team, putting Maria herself in charge of a few key things. Holly and Summer's snarking dies down a little, as they seem to accept that Cyndi knows what she's doing, even if hers is not the most egalitarian management style. A healthier Sharon Osbourne laments her absentee status for the early part of the challenge and then steps in to lend a hand. Cyndi obviously respects and listens to Sharon's opinions, which just adds salt to Maria's already wounded ego. Even Trace Adkins (Country Singer/Celebrity Apprentice Season 1 Alum/Task Eye and Ear) can detect the tension on Team Tenacity, and doesn't understand why the team doesn't just get on board with Cyndi's vision. After all, her image and style was iconic and influenced a generation of fans, including a certain teammate who is walking through this task as if her pet died or she left home without her be-dazzler.
Over at Rock Solid, the guys are making over their up-and-comer, Luke Bryan. Goldberg defers to Bret on pretty much everything, since as he admits; he has no idea what he's doing. Curtis' role is to keep Bret on track, which actually creates a productive dynamic that allows Bret to be creative, but keeps him grounded in the reality of what's achievable given the time constraints of the task. Curtis and Goldberg have absolutely no ego invested in the music industry and really give Bret the keys to drive this entire task and execute his vision for the make-over. Unfortunately, the artist himself has little to no interest in being made-over and is against pretty much everything outside his limited comfort zone. He also ignores Bret's advice to never tell an interviewer how tired you are. We'd almost give him a pass for that since Bret himself broke the rule that morning and admitted that he was tired and hung-over on-camera. However, the yawning in the reporter's face was NOT okay.
It seems that Cyndi's makeover on Emily West is going well, and Maria was even acknowledged (by Emily) for her media training tips. Unfortunately, Cyndi admits that her press kit is flawed. So it all comes down to the performances.
Both artists take the stage and perform. Luke gets the crowd going with an upbeat country track, and Emily sings a beautiful country ballad that makes Cyndi, Trace, and the industry insiders who are judging the task tear up. (While I did not tear up, I did make a note to download the song "Blue Sky")
After the country music insiders have their perfunctory meeting with a Trump (in this case Don Jr), the teams file into the boardroom to learn who won the challenge. But first, Trump pokes at the open wounds and bubbling resentment in the room. Maria expresses her disappointment in her idol, Cyndi Lauper, and how she's trying to separate childhood "Girls Just Want to Have Fun" memories from current "Girls Just Want to Be Mean" moments. Sharon points out that no one should have come on the show as a fan, and Holly winces at the Cyndi worship. Cyndi apologizes and offers to send her a photo of herself to use as a dart board. A board room olive branch if ever there was one.
The results of the "give a make-over" challenge revealed that the ladies were the winners. Music industry know-how aside, make-overs are Slumber Party 101, so this end result is hardly surprising. Cyndi gets money for her charity and Rock Solid continues to crumble. It's a short execution, as there are only three remaining members and the main question is whether Bret should be fired for taking the lead on the project and coming up short or Goldberg should be fired for his bone-headed decision to step up as Project Manager and ruin Trump's fantasy rock star vs rock star head-to-head. Of course, the latter had to go, and Donald Trump directs an emphatic "You're Fired" at Goldberg.
Next week, the teams get shuffled around and Sharon is back in action! Meanwhile, tell us what you thought of this week's episode. Did Goldberg deserve to get fired or should Bret have gotten the boot? Was Cyndi too tough on Maria? Is there anyone whose success Trump doesn't take credit for? Did you think there was a chance of seeing Bret without his bandana?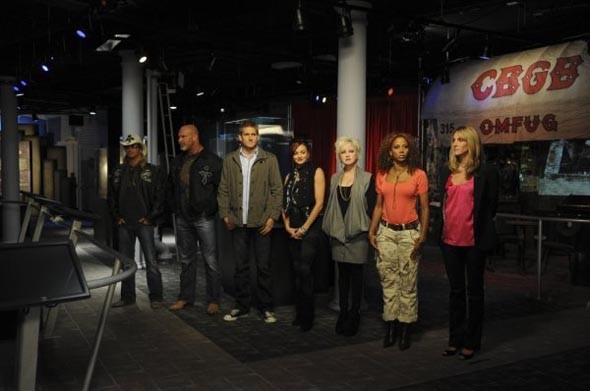 Story by Elissa Farkas
Starpulse contributing writer