'Celebrity Apprentice' – Lou Gives 120% While Aubrey Gives Tia Career Advice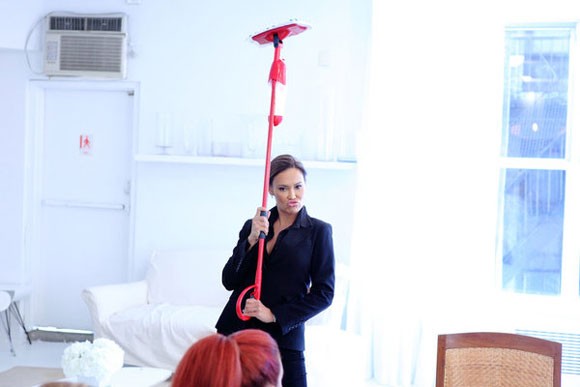 Last week, on The Celebrity Apprentice, the women's FORTE team won the challenge, and the men of UNANIMOUS got gut punched when not one, but TWO of their team were fired. Both Adam Carolla, Project Manager, and Michael Andretti hit the road when Trump decreed that Adam's biggest failing was not showcasing Michael's brand power in a challenge revolving around cars. Oh, and for not naming names in the boardroom, naughty Adam. But the ladies had a few tussles that may impact the solidarity of their group before too long. Patricia Velasquez interviewed that the 'back stabbing and lies' must stop for the women to keep winning. Penn Jillette and Clay Aiken let Lou Ferrigno know, in no uncertain terms, that they would no longer put up with his attitude in the board room, and Arsenio Hall vowed the team had to lose Lou as soon as possible. Lou and Tia Carrere shared their fears of being underused and undervalued, and vowed to step up to the plate. If they were going to go, they would go down swinging.
This week, Donald Trump and the Trumpettes, Don Jr. and Eric, met the celebs at the New York Public Library to unveil this episode's mandate – teaching Dayana Mendoza the English word for 'floor.' He's brought two executives from the venerable hundred year old firm, O-Cedar, to ask for help in creating a viral video and an original theme for their newest product, the Pro Mist Spray Mop.  Judging will be based on product integration, entertainment value, and brand messaging. Lou and Tia offer to be the Project Managers. Aubrey O'Day snarkily interviews that the brand has been around for a hundred years – just like Tia – so she'd be best for this. Meow!  Lou demonstrates his ability by inspecting the floor while doing multiple push-ups. And they're off!
Paul Teutel Sr. wonders what a viral video is and Penn tells him it's just a video that gets sent from person to person through social media. Lou tries to rally his troop, but hasn't any plan beyond starring in the video itself.
The ladies aren't doing much better. Dayana brings up a number of ideas, none of which the group like or acknowledge, and Aubrey hangs with the cool kids, Debbie Gibson and Lisa Lampanelli.  
Mike, the O-Cedar executive, meets with the women. He wants to know how they can make this product 'sexy' and fun. Tia seizes on the 'sexy' angle. Dayana is hurt when her idea of showing a pregnant woman mopping up her own broken water is deemed 'gross.' Lisa comes up with a great idea – "What's Your Number?" meaning, how many mops have you had in your life. You were thinking sex partners, weren't you, you naughty thing! Patricia Velasquez doesn't like the concept, but she'll give her best for the team. Each woman writes a short anecdote about her relationships with mops, heavy on the innuendo and double entendres. They'll film these anecdotes, and create a montage of the vignettes.
Lisa admits that she has a reputation as a 'dirty' comedian, but even she knows better than to get too racy with the O-Cedar company. She also admits that Dayana – Miss Universe, poised, skinny and beautiful – is easy to hate.
At UNANIMOUS, they're receiving a different message; the product is the hero. Sure, it can be funny, but concentrate on the hero aspect. Lou wants to make the mop a super hero. Penn says the word 'hero' is being used as a slang term, just meaning that the emphasis must be on the product. Penn's philosophy on brainstorming is 'write it down, shoot it down.' Throw all the ideas on the table, and then pick them apart until the best ideas surface. Clay wonders if Penn's take-charge attitude is coming across as negative and condescending. Certainly Lou's having trouble standing up to Penn's barrage of questions.
Finally Clay is frustrated enough to say that he feels the team is setting Lou up to fail. Penn admits he doesn't yet have an idea, and Clay says shooting down everyone else's idea is not the way to succeed. Lou's grateful to Clay; in a mixed metaphor, Lou calls Penn "a raging bull in a china closet." Dee Snider thinks the team is overthinking the process.  Paul Teutel Sr. breaks the tension when he proposes the slogan, "I'll mop the floor with you." The team is clearly out of their depths on this project, so they're happy to grab the line and run with it.   
With just one day to create, shoot and edit their video, both teams need to work quickly. At UNANIMOUS, Dee will be directing the shoot. Clay and Arsenio leave to find wardrobe. Penn sulks a little. And a little bit more. And generally makes everyone feel guilty for having feelings or an opinion of their own.
At FORTE, Tia's large and in charge. She just knows that her vision will be the best. Aubrey disagrees, offering to co-direct, or storyboard, or whatever needs doing. Tia feels that Lisa and Aubrey have formed their own tight clique who need to be leading, regardless of who is in charge. Aubrey, good team player that she is, tells us, "On every single task, I've either been the creator, the director, the conceptual visionary or all three in general, but Tia refuses to listen to me and I want to sock her in the face." Aubrey uses Lisa as a go-between/translator, to interpret her insights to Tia, and smirks for the camera when Tia agrees to use her ideas.
Dayana, Debbie and Aubrey worry that their video is not hitting the target. Dayana hasn't even seen the word 'mop' used in the script, and Aubrey feels everyone is being underused. When Don Jr. visits the ladies at the editing suite, he's surprised to see Debbie and Aubrey behaving like BFF's. When asked his number, he's surprisingly coy, and says, "Mops? Zero."  But Jr. picks up on the tension between the team mates, and deduces that someone is about to explode.
And he's right. Lisa loses it when Dayana asks how she is to be included in the presentation that Debbie and Aubrey have prepared. Lisa sees Dayana's request as a need to be front and center on every project. "Just because someone can speak with their face doesn't mean they always need to be out front." Lisa accuses the women of letting their egos run the show. Patricia feels that Dayana has to constantly fight to be included in the team in any way.
Lou may have been in a lot of movies, but he's having problems with the dialogue for their video. Clay helps Lou on pronunciation. Dressed in an apron, Lou's directed to dance with the mop. "I have control of every muscle in my body," says Lou. Kinda looks like all the muscles are fighting each other, as he sashays around the set. On Eric Trump's flythrough visit, he's pleased to see that Lou is taking command and being optimistic.
While Dee edits their video, Penn tells Clay that the word that bothers him the most is 'condescending.' As a large sized boy growing up, he was always treated in what he felt was a condescending manner, by people assuming that he wasn't too bright. When Clay says that Penn doesn't seem to want to play in the team unless he's in charge, Penn says he feels that he's being set up to be fired. It's an awkward moment, made even more awkward when Clay accuses Penn of 'superiority' for not responding quickly to his statements.
The ladies crack up when Dayana calls a florist and tries to order 'penis' flowers for their presentation. That would be 'peonies' for those wondering. What's your favorite flower, Dayana? "I love penises!" Oh well, it breaks the tension a little.