Celebrities Who Should Host Saturday Night Live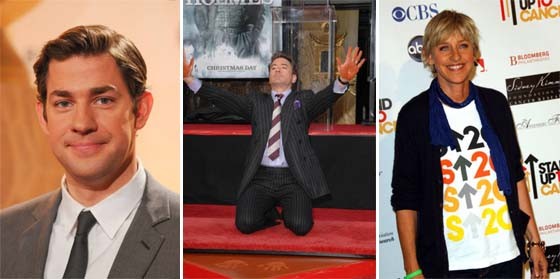 With such an iconic sketch comedy show like Saturday Night Live, it can be very disappointing when the host fails to excite us. Some celebrity hosts surprise the audience and are actually funny like Brian Williams
, whereas some bomb terribly like January Jones, Michael Phelps and Paris Hilton. Most likely if Lorne Michaels invites the celebrity to host again, it's a good sign like Steve Martin, Alec Baldwin, John Goodman, Tom Hanks, Christopher Walken, Drew Barrymore, and Jon Bon Jovi. A few other phenomenal past hosts were Justin Timberlake, Steve Carell, Tina Fey, Jon Hamm, Britney Spears and Jim Carrey. Here are a few other celebrities we'd like to see host Saturday Night Live.

John Krasinski - Could you imagine his monologue - occasionally glancing directly into the cameras, acting like he's on a documentary? He would make an excellent, charming and very funny host. A possible skit for John- a spoof on a day in the Saturday Night Live 'office'.

Brad Pitt - No one is too good for Saturday Night Live - even you Mr. Pitt. We think you should take this one into consideration after your hilarious performance in Burn After Reading. You can be a goofball and still be married to the hottest woman on the planet. A possible skit for Brad -he and Angelina preparing to pack up the kids up for a simple family outing, without nannies….

Ellen Degeneres - Ellen would make a very funny and gracious host. She seems very laid back and open to anything - we'd probably throw her into a 'Gilly' or 'Excited Sue' skit. Another possible skit for Ellen -a spoof on her new gig as American Idol host and how she's becoming the new Ryan Seacrest.

Beyonce - She has been the musical guest before but she should headline the show like both Justin Timberlake and Britney Spears have done. We can picture it now - Chris Parnell, Will Forte and Beyonce in tights and leotards singing "Single Ladies".

Lady Gaga - She showed us that she can perform- now we'd like to see her act. She seems a little shy but I bet she would open up a little with the support of the SNL cast. And just think of the endless wardrobe possibilities. A possible skit for Gaga -how her wild outfits came to be…she was running late for a gig once and only had a lampshade and a tire in her car.

Robert Downey Jr. - The former SNL cast member hasn't been on the show for a while, which is a shame. He'd probably be very open to making fun of himself and his various stints in rehab. A possible skit for RDJ- ambiguously gay duo meets Sherlock Holmes….

Sarah Jessica Parker - Sarah is so cute and bubbly that she would bring that special spark to any skit. A possible skit for SJP - Sex And The City 20 years down the road.

Sarah Jessica Parker - We know you are a serious actor Leo, but you can be funny, we've seen glimpses of it. A possible skit for Leo - any Titanic spoof or poking fun at his girlfriend's name, Bar.

Kendra Wilkinson- Although she may not be the best actress, I bet she would be up for anything (we have all seen her naked) when it comes to performing skits. A possible skit for Kendra - what it's really like living in the mansion, a behind the scenes look at being Hef's girlfriend.



Story by Erin Demchak

Starpulse contributing writer