Celebrities Who Have Posed for Playboy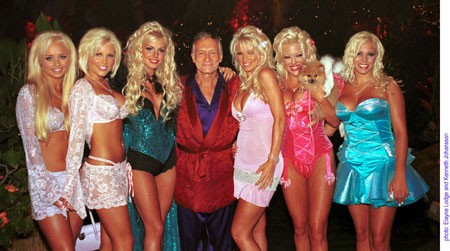 Playboy:
the original "I read it for the articles" nudie magazine was founded in 1953 by the legendary
Hugh Hefner
and associates (along with a $1,000 IOU from Mama Hef). Contrary to popular belief, however, Playboy's primary purpose is not to provide lustful bust-full images for the 18+ horny male crowd - tisk tisk for even thinking such rubbish. Rather, the mission of Playboy Magazine is to create a unique cocktail of sexuality, politics, art, and culture for the man about town who is all about experiencing the finer things in life, which obviously includes lots of boobies.
For the debut issue of Playboy, Hefner chose
Marilyn Monroe
as the magazine's cover girl. Now, Miss Monroe didn't exactly pose naked for the Hef himself. Instead, what Hefner did was he bought the rights to previously taken nude photos of Marilyn from a local calendar store in Chicago and compiled the magazine's pages from his own home. Hefner was initially uncertain about the magazine's success so he omitted his name and the date from the first 50,000 copies. Yet his anxieties were needless because Playboy sales went through the roof and it was soon established as the leading men's magazine. Playboy's essence can be summed up by this quote made by the Hef himself: "If you're a man between the ages of 18 and 80, Playboy is meant for you. If you like your entertainment served up with humor, sophistication and spice, Playboy will become a very special favorite. We want to make it clear from the very start, we aren't a family magazine. If you're somebody's sister, wife or mother-in-law and picked us up by mistake, please pass us along to the man in your life."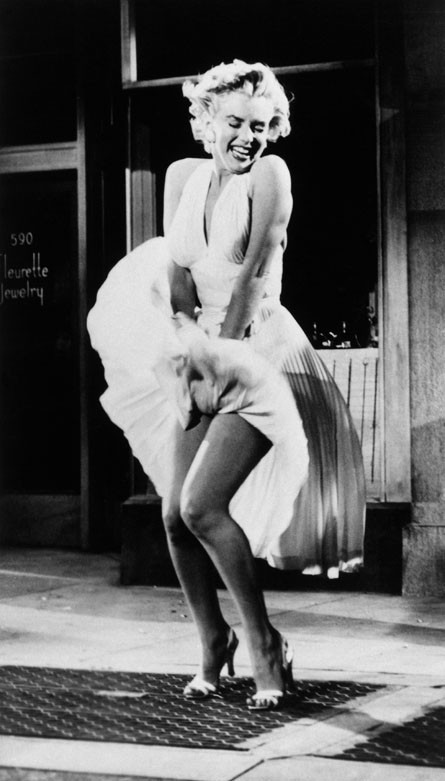 Image © Sam Shaw, 1954
Since Marilyn Monroe first graced Playboy's cover back in 1953, scores of other beautiful and successful women have also been bunny-ized, including class acts like
Kim Basinger
and
Goldie Hawn
.
Best known for her Oscar-winning turn as the posh call-girl, Lynn Bracken, in 1997's "L.A. Confidential,"
Kim Basinger
first caught the eye of Hugh Hefner after her work along-side Sean Connery in the 007 film "
Never Say Never Again
." From Bond girl to bunny, Kim has said that her 1983 Playboy pictorial lead to many good opportunities, such as 1984's "
The Natural
," a film for which she earned a Golden Globe Award nomination for Best Supporting Actress.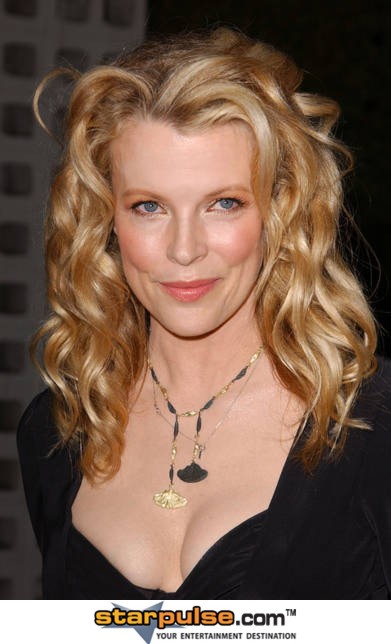 Image © Lee Roth / RothStock / PR Photos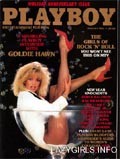 At the age of 39, the effervescent
Goldie Hawn
appeared on the January 1985 cover of Playboy with a headline that read: "A Sparkling Playboy Interview with Goldie Hawn." She was posing in a giant martini glass wearing nothing but a white collar shirt, a loosened black tie, and a pair of flashy, red stilettos. Following this issue's publication, which went on to be one of Playboy's highest selling, a ridiculous controversy was sparked over whether a woman going-on 40 could still be a sex-symbol and considered iconic enough to be seen on Playboy's legendary pages.
A more current celebrity to have posed for Playboy is reality television star
Heidi Montag
. Milking her 15 minutes of fame for all they're worth, the platinum blond prima donna stripped down to her skivvies for the September 2009 issue of Playboy. According to "The Daily Telegraph," Heidi apparently didn't feel that there was any sort of conflict between baring her body in a nudie magazine and her frankly expressed Christian beliefs. On
Ryan Seacrest
's KIIS-FM radio show, she reportedly said, "For me personally, I feel like God created the human body, and the body is beautiful. I'm not ashamed of it. I'm proud of it. This was such a blessed experience." Umm yah, about as blessed as the Virgin Mary grilled cheese sandwich that was sold for a mint on eBay.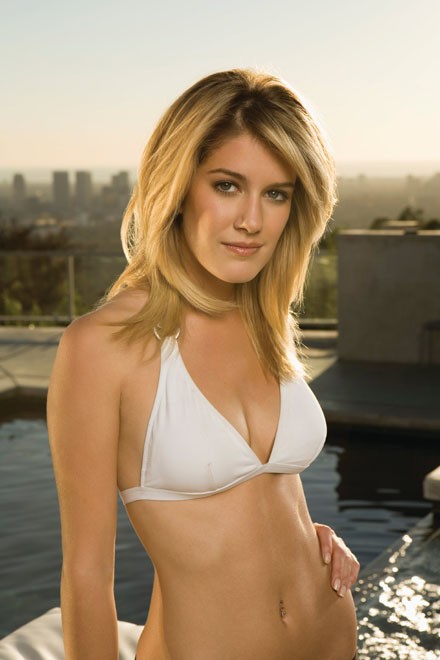 Image © Paramount Pictures
Posing for Playboy can create a tremendous amount of publicity for a celebrity. Being a cover girl can be the publication equivalent of CPR on a dead or dying career, or it can also generate widespread fame to a celebrity who otherwise might only have received minor recognition. In today's modern age of technology, however, Playboy is no longer as relevant as it was at its height in the 1970's. With the advent of the Internet, a treasure trove of sexually explicit content that is far more graphic and raunchy than the pages of Playboy, which seem Puritanical by comparison, can be discovered with nothing more than a couple of clicks and a Google. Nonetheless, Playboy is still the largest selling men's magazine, selling around 2.6 million copies a month all the while maintaining its original image of man-about-town panache.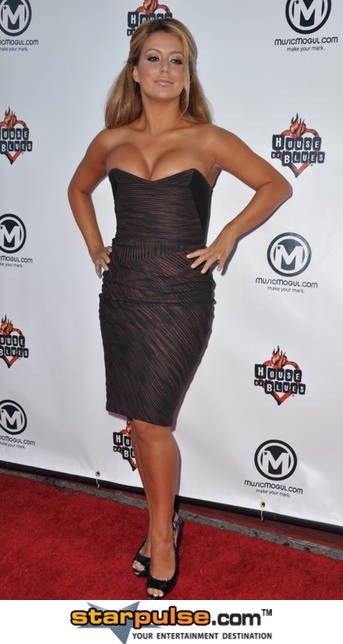 Image © Andy Mechammil / PR Photos
Ok so it's no surprise that Playboy isn't exactly a favorite read among feminist groups, who, in the past, have made Playboy Enterprises an express target in their campaign against the sexual objectification of women. On April 15th 1970, while Hugh Hefner was playing host to a fundraising party for the local Moratorium Against the [Vietnam] War, the Chicago Women's Liberation Union decided to take their campaign directly to the front door of the Playboy Mansion. The protestors came bearing the Viet Cong flag and consisted of a group of 200 people, mostly women but there were men in attendance as well. According to one member of the CWLU, the message behind the Viet Cong flag was to "expose the hypocrisy of Hefner's stated opposition to an unjust war abroad while profiting from his own unjust exploitation of women at home." A few weeks prior to the April 15th crusade, a demonstration was lead outside of a Playboy Club in Boston and not too long after that, a group of twenty male activists disrupted a conference of college fraternities that was being held at the same club by chanting, "Free our sisters! Free ourselves!" Also during that same year, more protests occurred in Chicago, New York City and in Century City, California.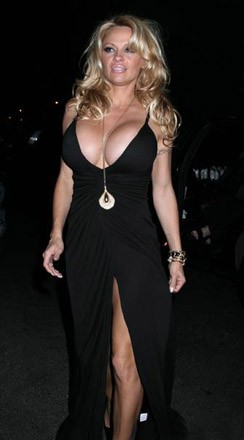 Image © Janet Mayer / Photorazzi
Interestingly enough, the modern success of Playboy isn't due as much to Hugh Hefner's mastermind as it is to the innovation of his daughter, Christie Hefner. A graduate of Brandeis University, Christie started working for the family business after she finished college. In 1982, she was promoted to president of Playboy Enterprises and then in 1988 she took the reins as chairman and chief executive of the company. Upon taking over at a time when Playboy was faced with serious financial difficulty and increasing competition, Christie decided to expand Playboy's empire onto the Internet. As a result, Playboy became the first national magazine to appear on the World Wide Web. Christie's innovative online venture proved to be highly successful and since then, she has cultivated the Playboy franchise both nationally and internationally via video games, concept stores, and entertainment venues. Paying tribute to his daughter's tireless efforts, Hugh Hefner has said, "The company today has more consumers and fans than at any time in our history." It would appear that the aphorism, "Behind every great man [(or every great brand of male erotica)] lies an even greater women," rings pretty true in the case of Playboy Magazine.
Story by
Michaela Zanello
Starpulse contributing writer