Celebrities Watched In Awe As Daredevil Nik Wallenda Crossed Arizona Gorge On A Tightrope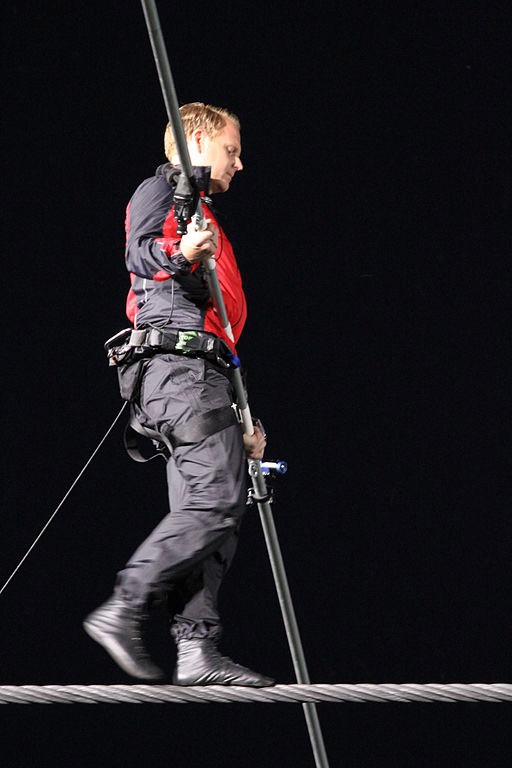 Model Brooklyn Decker was among the many stars left on the edge of their seats when daredevil Nik Wallenda traversed an Arizona gorge on a tightrope with no safety net on Sunday.

The stuntman's feat aired live on the Discovery Channel, and while Wallenda performed his stunt on a cable over the Little Colorado Gorge, near the Grand Canyon, 13 million viewers were left holding their breath.

"My stomach is inside my throat right now," Decker tweeted. "WHY IS HE WEARING JEANS. WHY did his wife let him do this. Wow. Wow wow. Amazed/terrified #skywire."

Wallenda traversed the 1/4 mile gorge on a two-inch thick steel cable carrying only a fiberglass pole about 20-feet long to steady himself. And he did wear jeans.

Carrie Underwood also watched the event. "Is anybody else watching this dude walk across the Grand Canyon (sic) on a tightrope? With no net! So crazy!" she tweeted.

And actor Ryan Phillippe referenced the numerous times Wallenda praised Jesus Christ during his 1500-foot-high walk.

"This is the best advertisement Jesus has had in forever!" he wrote.

Wallenda told the Christian Post earlier this month that he always talks to God while performing his death-defying stunts.

"I find that peaceful and relaxing, and He's the only one up there listening to me," he said.

Wallenda and his family prayed with TV evangelist/author Joel Osteen before his 22:53 trip across the gorge.

According to TMZ.com, Wallenda praised Jesus 63 times, while referencing the "Lord" 39 times.

Afterward, Wallenda told reporters that he wants to walk a tightrope in New York City -- between the Empire State Building and the Chrysler Building.

"This guy is effing nuts! I wanna throw up!" said The Big Bang Theory star Kaley Cuoco.