Celebrities Tweet : Tina Fey's Nip Slip, Dumber and Dumber To, And Kanye Twitter-Rips Jimmy Kimmel!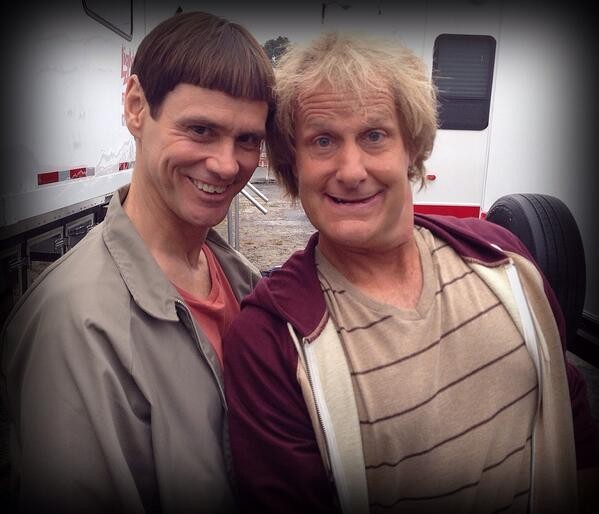 Welcome to our weekly collection of Celebrity Twitterings, known as 'Celebs Tweet!' As usual, we have our roundup of celebrity stupidity via Twitter. So let's waste no time getting right into it.
---
Jimmy Kimmel hosts an epic lip-synch-off with some special guests!
Lip sync'n with these guys @StephenMerchant @hitRECordJoe was fun. http://t.co/UBi8euOaiv

— jimmy fallon (@jimmyfallon) September 27, 2013
Tina Fey suffers a wardrobe malfunction, but makes the best of it on SNL.
I think Tina Fey's nipple deserves an Emmy.

— Denis Leary (@denisleary) September 27, 2013
Kanye and Jimmy Kimmel start an epic rap feud over...pretty much nothing. Check out our coverage of the event here.
YOU CAN'T PUT YOURSELF IN MY SHOES. YOUR FACE LOOKS CRAZY… IS THAT FUNNY?… OR IF I HAD A KID SAY IT WOULD IT BE FUNNY???

— KANYE WEST (@kanyewest) September 27, 2013
I swear, @kanyewest one more of these I WILL unfollow you #warning #Goshdarnit

— Jimmy Kimmel (@jimmykimmel) September 27, 2013
Joan Rivers, being Joan Rivers.
Still thinking about Mayim Bialik in the green dress at the Emmys. Leave it to a Jewish girl to use a Christmas tree skirt twice a year.

— Joan Rivers (@Joan_Rivers) September 26, 2013
To anyone I've ever made fun of for being awkward: All karmic revenge is being exacted on me every single time I attempt eagle arms.

— Stephen Amell (@amellywood) September 26, 2013
I'm shocked, SHOCKED, that businesses write phony reviews of themselves.

— Steve Martin (@SteveMartinToGo) September 25, 2013
A very Amell-iorative first take for a CW Advertisement.
1st Take. @RobbieAmell http://t.co/DiscVobFcn

— Stephen Amell (@amellywood) September 25, 2013
Robin Williams hosts an AMA on Reddit! You're a little late to the party, but you can find the thread in the link here, if you're a redditing sort.
Join me live on Reddit! http://t.co/yaAwyArjbB. @reddit_AMA pic.twitter.com/gd3t2Gw8ZC

— Robin Williams (@robinwilliams) September 25, 2013
And finally, Daniels and Carrey make a triumphant return in Dumb and Dumber To - a proper Dumb and Dumber sequel.
We're Back!!! #DumbTo pic.twitter.com/u2u42yM2hk

— Jeff Daniels (@Jeff_Daniels) September 24, 2013