Celebrities Tweet Their Love & Prayers To Joan Rivers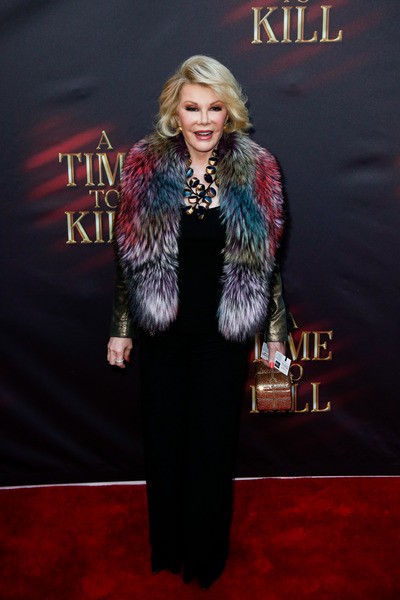 Several celebrities including Charlie Sheen and Courtney Love have taken to social media website Twitter to send their support to Joan Rivers and her family.
The "Fashion Police" host, 81, was hospitalized on Thursday at Mount Sinai in New York City after suffering cardiac and respiratory arrest during surgery on her vocal chords.

Rivers is currently in a medically-induced coma. She is in "serious" but "stable" condition, according to her daughter Melissa and hospital staff.

I'm thinking about you, @Joan_Rivers, and sending lots of love your way.

— Ellen DeGeneres (@TheEllenShow) August 28, 2014
Following Rive's hospitalization, celebrities immediately started sending well wishes her way.

Sheen wrote, "Please come back to us young lady," while "Modern Family" star Ferguson said, "Sending all my love and prayers to my friend @Joan_Rivers right now."
Courtney Love added, "Hang in there @Joan_Rivers So many awful gowns are going to be worn this year as bait for you pull through. Love and prayers Court."
Rosie O'Donnell, Larry King, Ellen DeGeneres, and Zachary Quinto also tweeted their thoughts and prayers to the comedienne.

Borrowing Rivers' classic sarcasm, comedian Jeff Ross "joked" about the star's medical issues, writing, "Don't worry folks, @Joan_Rivers won't die because she refuses to follow Robin Williams. Get well mama. We need you."