Celebrities Tweet: Nicki Minaj Topless, Macklejackson, Colbert's Potty Mouth & More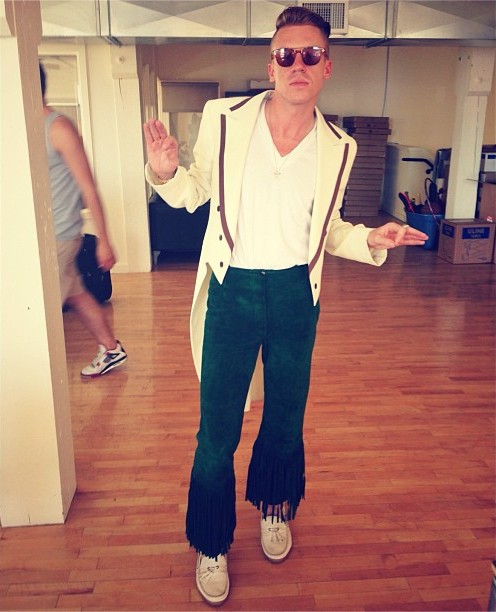 Welcome once more to Celebrities Tweet - our weekly roundup of the best celebrity twitterings from across the net!
---
Lump's on a plane. #Adorable
Lump likes to fly.... pic.twitter.com/tRUQNfWCAW

— Donnie Wahlberg (@DonnieWahlberg) August 5, 2013
Sort of. pic.twitter.com/o441O4s68h

— Donnie Wahlberg (@DonnieWahlberg) August 5, 2013
Macklejackson. OW!
#macklejackson http://t.co/m1DZBUVvRy

— Macklemore (@macklemore) August 7, 2013
Those broadcast plebians will never experience the pomp and splendour that the cable elite live by.
M'colleague Hugh with Stephen Colbert: hilarious and absolutely true http://t.co/sggSje9Snz (via @elvis717)

— Stephen Fry (@stephenfry) August 6, 2013
Built in pant-obsolesence.
All my pants have fallen apart at the same time. That's consistency in pants manufacture. They last almost exactly ten years. #Pants

— James May (@MrJamesMay) August 6, 2013
The plot thickens. Wheels within wheels.
Confession time. Since 1997, I've been writing a children's book series under the pseudonym "JK Rowling."

— Conan O'Brien (@ConanOBrien) August 6, 2013
Twitpit of the Week.
What is it about a sunset that can stop u in your tracks..... pic.twitter.com/bWWhLiub7Y

— Alicia Keys (@aliciakeys) August 6, 2013
Just an average P!nk concert.
Lets see... Tonight I proposed for someone in the audience and she said yes... And then I sent a woman into labor! Great night! #sydney

— P!nk (@Pink) August 7, 2013
And even then Tut had a sarcophogus ready for him. Joke was on Tut when he croaked first.
President Obama has sent John McCain to Cairo, which is perfect because he's been dealing with the Egyptians since the Tut administration.

— Jay Leno (@jayleno) August 7, 2013
Yes, because indentured servitude is just so appealing.
Bid Now to be my 'roadie' for the day at the concert, http://t.co/TLGF7ZMaBV #BlurredLines to support @rush_art #ArtForLife

— Robin Thicke (@robinthicke) August 7, 2013
Topless photo from @NICKIMINAJ #HOT
Check out our article HERE