Celebrities Tweet: Miley's VMA Twerkathalon,Heidi Klum's Creepy Close Up, Adam Levine (Mostly) Nude & More!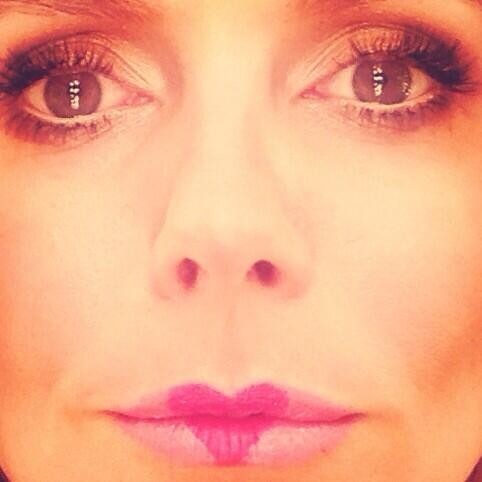 Well - reactions to Miley Cyrus' shocking VMA Twerk-out were... well, diverse. Here's just a couple.
This guy. Breaking it down. http://t.co/LEiZIx4eyU

— Elizabeth Banks (@ElizabethBanks) August 27, 2013
Just saw a couple performances from the VMA's last night. 2 words.... #pitchystrippers

— Kelly Clarkson (@kelly_clarkson) August 26, 2013
Mileys getting out- twerked by pro dancers right now. #unfortch

— David Spade (@DavidSpade) August 26, 2013
Oh Miley...

— Clark Gregg (@clarkgregg) August 26, 2013
Billy Ray SIGHrus

— max greenfield (@iamgreenfield) August 26, 2013
Crude - but funny!
#Headlines: We hear traffic at this intersection is always bumper to bumper... pic.twitter.com/luj8X72RxR

— Jay Leno (@jayleno) August 27, 2013
Sure - if copious amounts of photoshopping gets you 'closer to the truth.'
Closer to the Truth pic.twitter.com/SMqAzZzFw3

— Cher (@cher) August 29, 2013
we look out for our lady followers, too. You're welcome girls.
I had to share this. You're welcome, Twitter. @AdamLevine pic.twitter.com/z4FO021Rtd

— Ellen DeGeneres (@TheEllenShow) August 29, 2013
I shook hands w Pat Robertson and now I'm a doddering out-of -touch homophobe.

— Denis Leary (@denisleary) August 29, 2013
As a professional procrastinator, this is my anthem and battlecry.
Sometimes there's nothing like doing nothing;)

— Jackson Guthy (@jacksonguthy) August 29, 2013
Somewhat creepy...
LOVE pic.twitter.com/O7MdjmuBry

— Heidi Klum (@heidiklum) August 28, 2013
We'll advocate for Robin Thicke in his times of troubles - THIS is what a family man looks like!
Family vaca! pic.twitter.com/dUnLiJfRPx

— Robin Thicke (@robinthicke) August 30, 2013
The office sexual harassment meeting is today! I look forward to it every yr. Mostly because the guy who runs it has the cutest little buns

— Ellen DeGeneres (@TheEllenShow) August 30, 2013
Lump want beef.
Lump got beef! https://t.co/XhlQSrTyLP

— Donnie Wahlberg (@DonnieWahlberg) August 29, 2013