Celebrities Tweet : Fallon's Joking Bad, Kimmel Punks The Entire Internet, Stars Remember 9/11 & More!
Welcome one and all to our weekly Celebrities Tweet column, where we sum up the hot and trending items of the Twitterverse, as viewed by stars and starlets.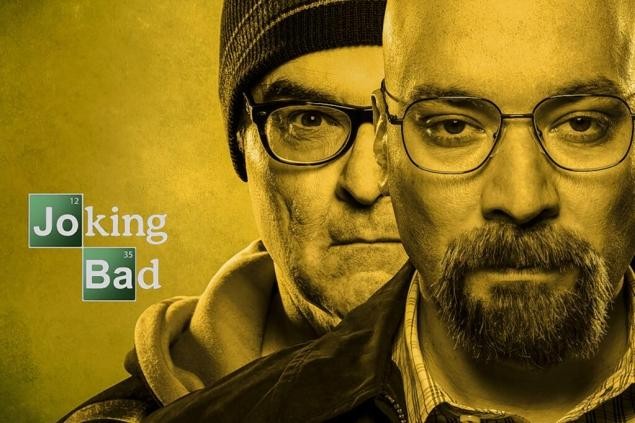 ---
Jimmy Fallon's very own... Joking Bad. It's a must-watch. It's well worth thirteen minutes of your day.
I am the one who knocks. http://t.co/vWHR0482Jq #JokingBad Our parody/tribute to #BreakingBad

— jimmy fallon (@jimmyfallon) September 12, 2013
Jimmy Kimmel reveals the viral 'Twerk Fail' that swept the internet was a cleverly designed and subtly executed punk'd.
Hopefully this will put an end to twerking forever. http://t.co/dN9quGqdbz #twerkburn

— Jimmy Kimmel Live (@JimmyKimmelLive) September 10, 2013
Might as well jump.
Trust me, when I say, "Jump!", my employees say, "That's a good Van Halen song."

— Conan O'Brien (@ConanOBrien) September 10, 2013
Not sure if I speak Russian well, but I definitely speak it seductively.

— Stephen Amell (@amellywood) September 13, 2013
Sarah Shahi tells it like it is. #leaveMileyAlone
It wasn't my favorite music video. But I still say to all those haters out there- get over it!! Leave Miley alone!!

— Sarah Shahi (@onlysarahshahi) September 13, 2013
Happy #ThrowbackThursday! #BadSchoolPhotos pic.twitter.com/B0G9uyPutg

— Ellen DeGeneres (@TheEllenShow) September 12, 2013
Finally, Snoop-Lion slippers. My loungewear collection is now complete.
get them house shoes at http://t.co/obRVV6J9CJ !! pic.twitter.com/frSeQfUcx6

— Snoop Dogg (@SnoopDogg) September 12, 2013
Jimmy Kimmel investigates maternal angeri ssues.
see little kids cursing here http://t.co/7mNtpff8mF

— Jimmy Kimmel (@jimmykimmel) September 13, 2013
Don't know what's more exciting about Fashion Week: Seeing all the new designs or thinking of ways to make fun of them over the next year.

— Joan Rivers (@Joan_Rivers) September 13, 2013
That makes sense. We think the same thing when we see what new plastic surgery Joan gets every year!