Celebrities Rock The Gift Lounge Backstage At The Rock & Roll Hall Of Fame Induction Ceremony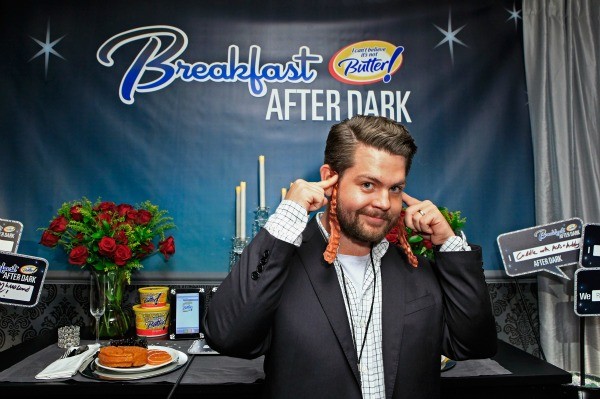 The 28th Annual Rock & Roll Hall of Fame Induction was held in Los Angeles for the first time since 1993 and the show certainly didn't disappoint. With inductees Rush, Heart, Public Enemy, Donna Summer, Lou Adler, Randy Newman, and Albert King, the star-studded event brought out the best in music.
Behind the stage though at the Nokia Theatre was an ultra-exclusive event that only presenters, performers, and special guests received an invite. The I Can't Believe It's Not Butter! "Breakfast After Dark Gift Lounge was the big hit for the VIPs.
Celebrities like Jack Osbourne, Jennifer Hudson, Cindy Crawford, Sara Gilbert, Questlove, Spike Lee, Kelly Rowland, Flavor Flav, and even the I Can't Believe It's Not Butter spokesperson, Lisa Vanderpump of Real Housewives of Beverly Hills, stopped by to take a look at some of the products on display in the gifting suite.
Former Destiny's Child bandmates, Rowland and Michelle Williams, stopped by together to check out the latest technology from TiVo with their Premiere 4 DVR which allows you to record up to four shows at once. The ladies are still great friends after all of these years and Williams was crashing at Rowland's pad while she was in Los Angeles and "mooch[ing] of her digs." The TiVo might come in handy so she can record her favorite show Scandal and still leave room for Rowland's other favorite shows.
Another popular spot in the room was the Ultimate Ears custom headphones. The in-ear monitors are the perfect item for music lovers, especially since they are molded to the listener's ear. Discerning music aficionados, Jack Osbourne and Sara Gilbert, who works with Jack's mom Sharon on CBS' The Talk, chatted about their kids. Gilbert recently got engaged to Linda Perry while Osbourne's baby girl Pearl is calling everyone she meets "Bruce", the name of the Osbourne family dog.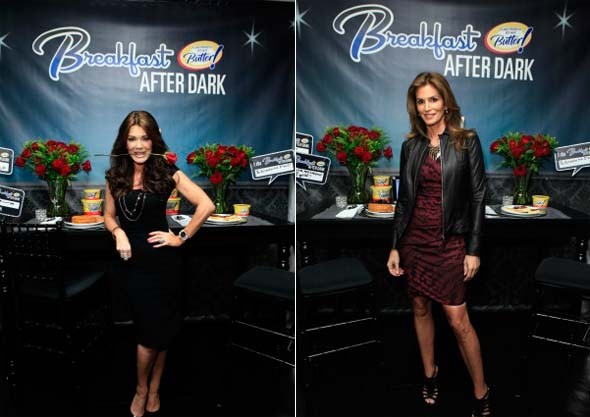 Supermodel Cindy Crawford even spent time in the lounge mentioning that her favorite activity after dark is pretty tame.
She revealed, "I like to cuddle with my kids and hubby."
She was also enjoying the New Balance Custom US574s which are made in the U.S. The company is the only major corporation still making athletic footwear in the States. Crawford, who had just bought new pair that day, shared, "I'm looking forward to wearing them during my morning workouts." So, that's how she keeps that supermodel shape!
Other companies displaying their latest offerings in the gift lounge included AQUASWISS luxury watches, PHYTO hair care for that rock 'n roll look, and Murad Skincare. Yes, even rockers need a beautiful, clear complexion.
The I Can't Believe It's Not Butter! "Breakfast After Dark Gift Lounge was definitely the secret spot to hit at the Nokia Theatre last week. It was a great way to indulge your inner rock star!