Celebrities React To Casey Anthony Murder Verdict On Twitter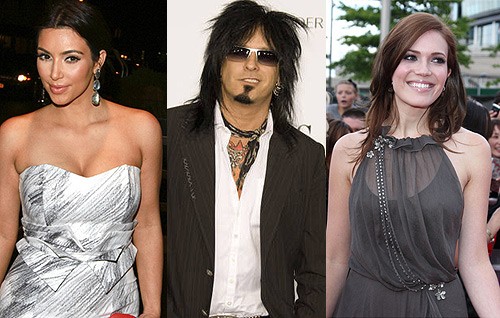 Rocker Nikki Sixx, singer/actress Mandy Moore and socialite Kim Kardashian have all expressed their shock and outrage after Florida mother Casey Anthony was cleared of murdering her young daughter Caylee in an Orlando courtroom on Tuesday.

The jury delivered its verdict after 10 hours of deliberations in one of the most explosive court trials in two decades.

Anthony, 25, was found not guilty of first degree murder, aggravated child abuse and aggravated manslaughter of a child, but the jury members did find her guilty on four counts of providing false information to a law enforcement officer.
She was accused of drugging her daughter and suffocating the two year old with duct tape in 2008, while the defense claimed Caylee accidentally drowned.

Upon hearing the verdict, a host of celebrities took to their Twitter.com blogs to comment on the ruling.
"WHAT!!!!???!!!! CASEY ANTHONY FOUND NOT GUILTY!!!! I am speechless!!!"  - Kim Kardashian
Motley Crue star Sixx was open about his disgust and, in a post on his Twitter page, he writes, "I am ashamed and shocked that our legal system failed us and found Casey Anthony not guilty for killing her daughter or any other (felony) charges."
And Blink-182 rocker Mark Hoppus simply writes, "No. F**king. Way."
"AMERICA! OW!"  -  Ciara 
Moore writes, "Woah! Shocked about the verdict in the casey anthony trial! Thought she was guilty for sure! Either way, tragic story.... i'm from orlando and have been hooked on the trial the last few weeks. the defense team was abysmal! this is shocking! poor, poor caylee."
Former Danity Kane singer Aubrey O'Day Tweets, "Either the law is corrupt, or we give too much power to the people entrusted with interpreting & applying the law. Its a sad day 4 justice."
"This is bulls**t!!!!" - 'The Voice' host Carson Daly
Meanwhile, the ladies of The Talk reacted to the news as it broke on the live U.S chat show, with co-hosts Julie Chen, Leah Remini and Holly Robinson Peete fighting back tears as they learned of the not guilty decisions.

Co-host Sharon Osbourne, who is on sick leave from the show, tweeted, "Casey Anthony not guilty??.....it's a disgrace. She'll probably get her own reality show now."
"Florida is weird" - 'The Hills' star Lo Bosworth
"WHAT THE F***!!!! I am disgusted... Nancy Grace is about to go HAM (Hard As a Motherf****r) about this verdict! Let loose the dogs Mrs Nancy Grace!!" said Khloe Kardashian
Kim and Khloe received several unkind replies to their Tweets also as their father, Robert Kardashian helped get O.J. Simpson acquitted from his murder charges in 1995.