Celebrities Gather For Philip Seymour Hoffman's Funeral In NYC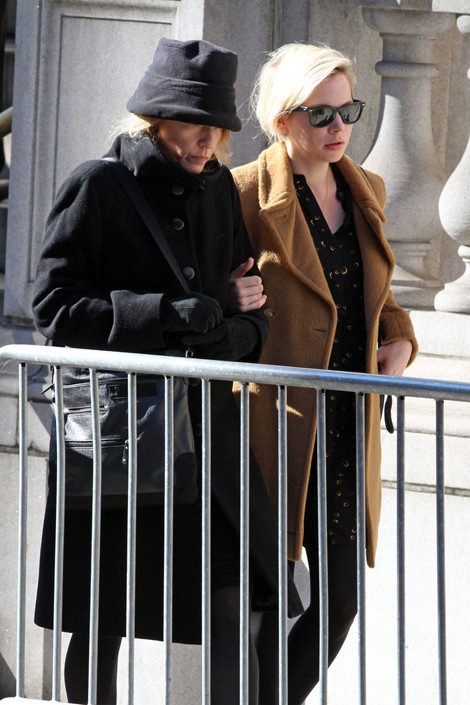 Celebrities including Michelle Williams, Jake Gyllenhaal, Meryl Streep, Cate Blanchett, Amy Adams, Julianne Moore and Joaquin Phoenix attended Philip Seymour Hoffman's funeral in New York City earlier today.
Other Hollywood star who attended included Laura Linney, Anna Paquin, Louis C.K., John C. Reilly, Ethan Hawke, Ellen Burstyn, Mary Louise Parker, Justin Long, Diane Sawyer, Joel Coen, Jerry Stiller, Marisa Tomei and Spike Lee.
Hoffman, who died Sunday of a suspected heroin overdose, was mourned by over 400 people at the Church of St. Ignatius Loyola in Manhattan's Upper East Side.
The actor's estranged girlfriend, Mimi O'Donnell, and the couple's three children also attended the private service.
Ten pallbearers carried the casket into the church at noon. Following the ceremony, "Amazing Grace" played from inside the church as the casket was put into the hearse.
A wake was held Thursday night at the nearby Frank E. Campbell Funeral Home.
Hoffman had been sober for more than 20 years before he began using drugs again. He checked into rehab in May 2013. A friend found his body on Sunday in his apartment bathroom. There were reportedly 70 bags of heroin inside his residence. An autopsy yielded inconclusive results.
The actor appeared in films including "The Hunger Games," "Capote, "The Talented Mr. Ripley" and "Charlie Wilson's War."