Celebrities Dazzled By Danny Boyle's Olympic Opening Ceremony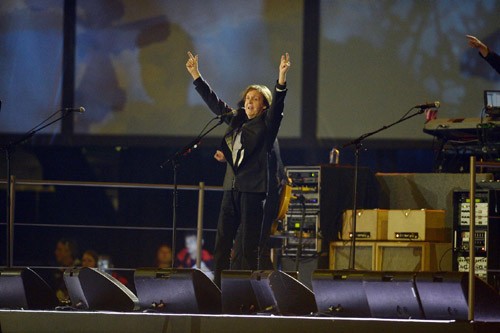 Ringo Starr, Bette Midler and Christina Applegate were among the stars who offered their congratulations to Danny Boyle as his spectacular show opened the Olympic Games in London on Friday night.
 
The festivities kicked off with a stunning opening ceremony at the Olympic Stadium in Stratford and the show, directed by moviemaker Boyle, was watched by an estimated 4 billion people across the world.
 
A number of celebrity sports fans were among those watching the extravaganza on TV and they took to Twitter to share their thoughts on Boyle's efforts.
 
Joe Jonas tweeted throughout the ceremony and was delighted to see Rowan Atkinson reprise his famed comedy character Mr. Bean for a short skit, writing, "Mr. Bean was so amazing!", while Daniel Craig's James Bond sketch with Queen Elizabeth II also drew laughs.
 
Joss Stone writes, "God save the Queen! Watching the Olympics. Love when the queen sky dives from the helicopter, she's much braver than I! LOL!"
 
Actor Dominic Monaghan tweets, "I do hope the queen wasn't subjected to the usual Bond girl routine at the hands of James. Not sure the bones could take it. Olympics 2012."
 
Billy Ray Cyrus writes, "Congrats (sic) London! Job well done on the opening ceremonies. Let the Games begin!!!" and Christina Applegate adds, "Enjoying the opening ceremony, Danny Boyle, u r (sic) one strange fellow."
 
Other stars who tweeted throughout the show included Pete Wentz, Kelly Osbourne, Bruno Mars and Selena Gomez, who showed her support for the American Olympic team, writing, "Go USA! Congrats to all the Olympians of 2012!!!"
 
Bette Midler adds, "Wow! What a great nght (sic) for UK; l loved every minute!"
 
Victoria Beckham's soccer star husband David was involved in the ceremony and was seen riding a speed boat along the River Thames to transport the Olympic flame to the stadium, and she proved she was watching from the banks by posting a photograph of Tower Bridge lit up in blue, writing, "So proud to be British."
 
Sir Paul McCartney closed the show and his former Beatles bandmate Ringo Starr watched his set from Los Angeles: "Well done Danny Boyle. Great show... Well done Paul great show all around R in LA... I send peace (and) love to all the athletes the best of luck."
 
A number of famous faces were lucky enough to attend the Opening Ceremony in person, including actor Orlando Bloom and the cast of hit TV show Downton Abbey. Star Hugh Bonneville tweeted a picture of his castmates standing outside the Olympic Stadium, writing, "Team Downton Abbey invade the Olympic Park", adding, "I'll remember Opening Ceremony forever. Privilege to be there. Grateful to & in awe of the thousands of people who made it happen."
 
The event proved to be a huge success for Boyle, who wrote, "Thank you, everyone, for your kind words! Means the world to me. I just want to take a moment to thank everyone involved tonight, couldn't have worked without you. Thank you, thank you so much. London2012".