Celebrities Are Freaked Out By 'Paranormal Activity'

A bunch of celebrities have been tweeting about Paramount's sleeper hit "
Paranormal Activity
." Read what some of them have been saying...
A haunted house makes no secret of the fact its not pleased with its new tenants in this independent tale of supernatural horror.
Tyrese Gibson
- Tyrese4ReaL EVERYONE LISTEN TO ME OK... PARANORMAL ACTIVITY IS THE SCaRIEST SHIT I'VE EVER SEEN IN MY LIFE.. Where's my bible ??
- Tyrese4ReaL I was so scary I just walked home in the rain.. cause I didn't wanna be in any inclosed areas.. HOLY SHHIIITT!!
David Spade
- davidspade too scared to see paranormal activity. not normal when i poop pants
Soleil Moon Frye
- moonfrye Just saw #Paranormal Activity Very freaky! Creepy! Good cuddle flick. I held my husbands arm for most of the movie.
Roger Ebert
- ebertchicago Low budget, no fancy f/x, but it's surprising how scary "Paranormal Activity" is.
Jordin Sparks
- TheRealJordin Just saw Paranormal Activity..it was really good but IT WAS SO SCARY! Omg. I don't know how I'm going to sleep tonight. Omg. Omg.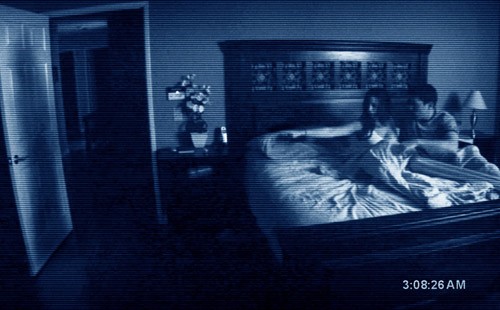 Image © Paramount