Celebrating the 150th Episode of 'Hell's Kitchen' with Susan Heaton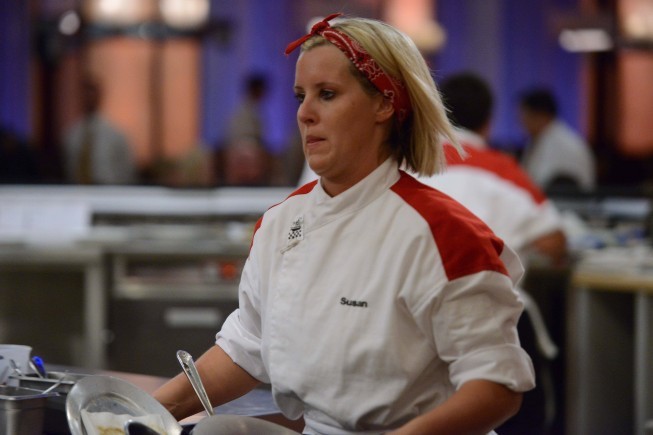 Tonight, Hell's Kitchen celebrates its 150th episode. The milestone falls in the middle of the FOX competition's scorching eleventh season, so BFTV snagged a few minutes with current cheftestant Susan Heaton to find out what motivated her to enter Hell's Kitchen and what it's really like to work for Chef Gordon Ramsay.
"Auditioning for Hell's Kitchen was the best decision I ever made," said Susan. "I was working full-time as a human resources manager and part-time culinary student, just pursuing a passion - really wanting to do something that I loved and hoping that one day it might turn into something, but not knowing."
What made her decide that competing in a nationally televised kitchen under one of the world's biggest chefs was the right move? "I really felt compelled to just test myself," she explained. "I was at the point where I was like 'I'm fearless. I feel wonderful about the possibilities and what do I have to lose? If I don't make it, I'm at the same point that I am and if I do make it, the world's my oyster.'"
Hell's Kitchen is notorious for crushing egos and chewing up those who can't stand the heat. Over the years, many cheftestants have punched their exit tickets because of the most basic of dishes, like risotto and scallops. Did Susan practice to avoid any of these common pitfalls? "I didn't, actually. I had made risotto hundres of times," she said. "You can't over prepare. Even if I practiced every day for six months, it doesn't prepare you for what Hell's Kitchen is. You're out of your element, you have Gordon screaming, you have the other contestants. [It's] just an intense pressure cooker."
"The experience itself blew me away and was far better than anything I could have imagined. A lot of people watch the show and say 'How could you deal with him?' And I think that intensity is what gets you going," she continued.
While Hell's Kitchen is best known for Chef Ramsay's tirades, Susan said that the Michelin-starred chef can be intimidating even when he's not raising his voice. "I think honestly it's just the look he gives you," she explained. "He makes direct eye contact and you can just see the disappointment in his face, and it's like soul crushing. He will just look you directly in the eye and he's like 'What is this?' You honestly feel like a wounded puppy."
The intimidation factor aside, Susan expressed her admiration for Chef Ramsay as well. "I really think that having the ability to work side by side with Gordon Ramsay was the most memorable part of this entire experience. I learned more in Hell's Kitchen than I did in two years of culinary school," she continued. "I wouldn't be surprised if we someday find out that he's a robot. He must eat like every superfood known to man, because he's so sharp. He's just a stand-up person."
So far in Season 11, the women's squad has been making mincemeat of the men's team during challenges - something that's happened in numerous other seasons, too. What gives the ladies of Hell's Kitchen an edge? Do they just know how to work together better than the guys? "Absolutely," Susan said. "I recognized it very early on with our red team. We fortunately didn't have that cattiness. We all respected each other very much. We were able to really unite - and our goal was to beat the guys. That was our motivating factor. We wanted to be the best red team ever." So far, this season's red team is undefeated in challenges through five episodes.
"I, throughout the entire experience, was honored to be part of an elite bunch of people," she added. "Ultimately no one, unless you've been through Hell's Kitchen, knows what it's like."
While Susan certainly had her sights set on winning the prized position at Gordon Ramsay Pub and Grill in Las Vegas, "I definitely had some personal goals in mind when I stepped into Hell's Kitchen," she said. "Those were to portray myself in the best possible light and to maintain integrity throughout everything that I did. I never wanted to waver from who I was or be compromised by the competition aspect of the show. And to have a learning experience. I really wanted to learn as much as I possibly could and to say I survived Hell's Kitchen." That's definitely an accomplishment worth celebrating!
The 150th episode of Hell's Kitchen airs tonight at 8 PM ET/PT on FOX. You can also keep up with Susan on Twitter (@SusanHK11).
(c)2013 Brittany Frederick. Appears at Starpulse with permission. All rights reserved. No reproduction permitted. Visit my official website and follow me on Twitter at @tvbrittanyf.