Cee Lo Green Still Standing By His 'Imagine' Lyrics And New Year's Eve Tweets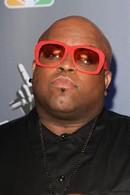 Cee Lo Green got into trouble on New Year's Eve when he changed the lyrics to John Lennon's "Imagine," saying, "all religion's true." Speaking to the Television Critics Association about the upcoming season of The Voice, Green reiterated his benign intentions.
"I will say this," Green said on Friday. "It's all about love. It was all about love and peace and unity and tolerance and acceptance. All of these wonderful things that sound cliché and a little bit cheesy, you may say I'm a dreamer but I'm not the only one."
Green continued to engage the issue on Twitter as fans tweeted at him after his performance and he responded. He still stands by the way he expressed himself.
"On our show, our art imitates life, not just lifestyle. Of course as a human being, we're strange and weak and beautiful all in our own special ways. I believe speak out, be yourself and speak your mind, speak your heart. I'm for that. I'm pro choice, I'm pro expression. That's just me. I meant no harm and no disrespect to anyone, anyone! Any religious preference."
The Voice returns Feb 5 after the Super Bowl.