CD Review: 'The Voice' Season 1 Highlights
I've made no secret of my passion for NBC's The Voice. Handing me the new season 1 compilation album? Somewhat like an early Christmas present. On the music alone, it's a wonderful album, but whether or not you're interested in it will vary greatly, depending on how familiar you are with the show.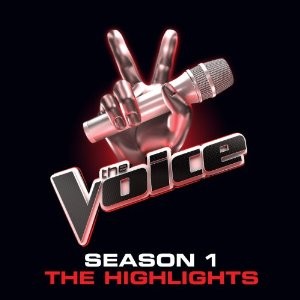 Thanks to an existing partnership with iTunes, if you're a huge fan like myself, you've probably already downloaded some if not all of the contents as they became available after the episodes aired. These aren't any different than the previous versions. All of them are still available there as of this writing, and buying them there is only about a dollar more expensive than the purchase price for this CD.
Perhaps the bigger issue, though, is that this is a "highlights" compilation - and fans of the show can probably start a considerable debate as to whether or not the twelve tracks really are the best of the season. There are selections from each of the top eight - two from winner Javier Colon and runner-up Dia Frampton, plus songs performed by finalists Vicci Martinez and Beverly McClellan, as well as semifinalists Casey Weston, Xenia, Nakia and Frenchie Davis.
You'll get a few obvious choices, like Javier's version of Coldplay's "Fix You" and Dia's much-lauded rendition of Kanye West's "Heartless." What you won't find is any of the artists' original songs that they performed in the final round. No "Stitch by Stitch" or "Inventing Shadows." (Though I'd expect the former to show up on Javier's impending new album anyway.)
The pleasant surprise is the inclusion of Rebecca Loebe's fabulous blind audition track, the Nirvana song "Come As You Are." Hers was probably my favorite audition, haunting and compelling. I don't know who decided to put that on the album, but kudos to them for doing so.
However, there's twenty-three acts who appeared on the show and not on this CD, which unfortunately also omits the battle round duets, team performances, and coach medleys. I'm curious as to why this wasn't released as a two-disc set or, at the least, as one with more than eleven tracks. That seems too short for the amount of worthwhile music that was heard on the show, and some fans are bound to be disappointed that their favorite singers are missing.
Even if your artist of choice is included, you might prefer one of their songs over the one that's here. I believe Nakia's version of Adam Lambert's "Whataya Want From Me" was even better than his rendition of Kings of Leon's "Sex on Fire," but it's "Sex on Fire" that's on the album. Again, it's a matter of your personal preference.
That isn't to say that this is a weak collection. I think it's a solid, if not necessarily all-encompassing, one. If I hadn't had the download option and had just bought this CD, I'd be pretty happy with it, although I'd want to add a few more songs to the mix.
Yet die-hard Voice fans probably don't need this, unless you truly prefer having a manufactured disc over the one you could burn off your iTunes. (There's no bonus content - not even pictures in the liner notes.)
This CD isn't made for those people. This collection is probably best for the casual fan or curious listener who wants to know what all the hype was about. It will expose those people to the talents of the top eight and I'm all for that. They're all incredibly talented and the more people who can hear their great music, the better.
As for me, I'm going back to my Voice-only playlist on iTunes, all 101 songs of it.