CD Review: Hawthorne Heights - 'Hate'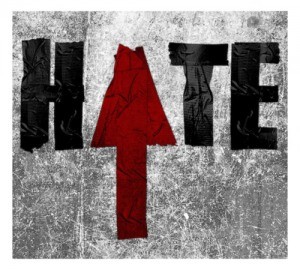 Hawthorne Heights, we get it – you're pissed. Understandably, you have a lot to say, what with all of the tragic events of your past and your recent brief, inauspicious tenure with Wind-Up Records, and Hate surely is your soapbox. The bands first release on their own Cardboard Empire Records and first of an apparent trilogy of EP's, Hate is somewhat of a mixed bag from Hawthorne Heights, employing angst-ridden, scream-laden vocals reminiscent of turn-of-the-millennium post-hardcore, a scene this band was birthed into way back when. At times, the sound works ("Divided," "Four White Walls"), but at others it sounds incredibly naive ("There Was a Kid (Part 1)," "Is This What You Wanted?"), which is surprising for a band this far along in their career.
Vocalist JT Woodruff's songwriting ebbs and flows right along with the rest of Hate, full of lyricism that registers as relatable, something Woodruff has done very well throughout the years, though there are times throughout the EP where Woodruff's songwriting comes across as green (see lines from opener "There Was a Kid (Part 1)" – 'There was a kid who was failing all his classes/He never had a friend, he never knew he needed glasses'). While Hate isn't the return to form that fans have been waiting (and perhaps clamoring) for from Hawthorne Heights, it's a step in an interesting direction for a band that's never been satisfied remaining status quo.
Grade: C+
Go Download: "Divided"