CD Review: Crossfade - 'We All Bleed'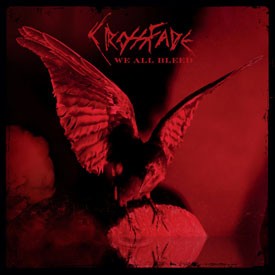 If you're of the mind that fame isn't without its price, then you best seek out Crossfade frontman Ed Sloan. He was seemingly on top of the world following the release of his band's 2004 eponymous debut, a record that would go platinum, sitting in the proverbial, and mostly enviable, catbird seat of being the frontman of a highly successful rock band. After 2006's sophomore album "Falling Away" fell flat on its face, Sloan, along with the rest of Crossfade, was subsequently dropped from Columbia Records, just a mere four years removed from having  sold over a million copies of their debut.
After becoming label homeless, Sloan was sent into a spiraling depression that saw him remove himself was the industry completely, even going so far to say that music was his enemy. Guitarist/keyboardist Les Hall, who eventually brought Sloan back from the brink, became one of the bands primary songwriters, though Sloan spent those lonely nights with pen firmly affixed to paper, laying out his innermost thoughts of despair in ink. From those dizzying writing sessions, enter "We All Bleed," the bands third long player, and first for new home Eleven Seven Music.
It doesn't take long for Sloan to start with the emotional diatribes on "We All Bleed," loudly claiming 'I'm not holding onto dead memories,' just a few minutes into the album's opener "Dead Memories." And that's how this album should be thought of by the band and the listeners – as a fresh start and a clean slate for Crossfade. This new full length is a departure from the predictable structures and non-salient rock people have come to expect from Crossfade in recent years mostly due to the heavily introspective songwriting spewing from the pen of Sloan (yes, with help from Hall), moments of depressing lyricism like "Killing Me Inside," "Dear Cocaine" and "We All Bleed."
"We All Bleed" isn't perfect, it's imperfect. It's gritty and at times choppy, but it is those characteristics of this album that lend a bit to its overall charm. No, "We All Bleed" isn't proof that Crossfade is back, at least, not all the way yet. But hey, it's a start.
Grade: B-
Go Download: "Killing Me Inside"