CD Review: 3 Doors Down - 'Time of My Life'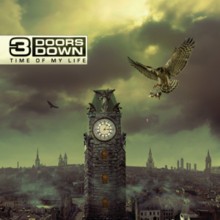 3 Doors Down's latest and fifth studio release, "Time of My Life," starts out energetic enough, firing off two of the albums strongest cuts back-to-back right off the bat in the hard-charging title track and the radio friendly, more 3 Doors Down-esque lead single 'When You're Young.' For the most part, the amped up guitar work merely masks the fact that "Time of My Life" is an album devoid of any true breadth, one full of clean, ho-hum hooks that lack any sort of distinction. Sure, these songs are anthemic to the hilt ("Round and Round," "Every Time You Go"), which should net the band some radio airplay, something more than a few of these songs will definitely garner. "Time of My Life" also offers up a number of ballads in typical 3 Doors Down fashion ("Heaven," "Back to Me"), which should be expected from these guys.   
The hiring of producer Howard Benson (Motorhead, Switched, My Chemical Romance), known mostly for working with heavier acts, is notable right from the beginning with thunderous guitar work that opens the album's title track, and while his hiring might be a bit telling of what the band thought of their rather vanilla sounding 2008 self titled release, but unfortunately even Benson can't save "Time of My Life" from trending towards senility and perhaps even middle age.
"Time of My Life" is upbeat more often than not, and while the overt feelings of loneliness and pain have subsided a bit, the notion of heartbreak and loss is still prevalent. Brad Arnold's vocals and songwriting are fairly par the course, not leaning towards one side or the other instead remaining pretty much middle-of-the-road, something that is a bit upsetting given the pumped up nature of "Time of My Life" on the whole.
While "Time of My Life" might be better than their self titled disc was three years ago, that's not really saying all that much. Honestly, it's not all bad as more than a few of these songs are worthy of a listen, but in the end "Time of My Life" is the true antithesis of the old saying "the whole is greater than the sum of its parts."
Grade: C+
Listen to: "Time of My Life"