CBS's 'Elementary' Review: Much Ado About Nothing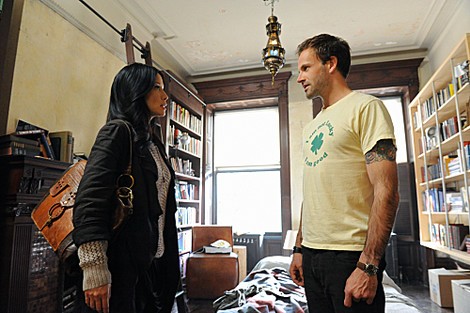 Ever since USA's "Monk" nabbed a bunch of a viewers and a trunk-load of Emmys for lead actor Tony Shalhoub, shows that delve into the anti-hero hero have cluttered the television landscape.  There was the painfully acerbic crippled doctor who compulsively diagnosed the undiagnosable in "House"; the former con-man turned consultant to the California Bureau of Investigation in "The Mentalist"; and now there is "Elementary," CBS's new show about a vaguely familiar genius British detective who is a slave to his crime-solving compulsions. 
After watching the pilot, an alluringly shot series starring Jonny Lee Miller as the sadly pipe-less detective and Lucy Liu as a female Watson, I've wondered if there is a "Procedural-By-Numbers" flowchart posted around the CBS's offices.  All of the procedural must-haves are there—the artful cinematography, the witty banter, the backstories shrouded in traumatic mystery, the hardboiled New York captain who spends his nights in an Irish cop bar—and yet the show doesn't have the irreverence of "House" or the whimsicality of "The Mentalist" or much originality at all.  This Sherlock is a drug addict, and yet there is not one tongue-in-cheek image of him hitting a crack pipe.  It's just a bare bones solve-the-murder show with a few half-hearted twists tossed in that barely make sense (Hint: the first guy you think did it, did it).  And it's a shame, because the cast, especially Miller and Liu, cannot get any better. 
Miller chomps down on this chance to play this iconic character with the visceral glee of an attacking pitbull.  He buzzes about a crime-scene with same fervor as the bees he keeps on the roof of his brownstone, deducing and showing up the local boys in blue all while flailing and ignoring all social boundaries.  It's enjoyable to watch, even though he's a few teacups short of a set and he isn't given that much to do.  To contrast, Liu's Watson is a guarded, quiet former doctor who hides in beautiful jackets and oversized sweaters and of course, runs in Central Park every morning.  The only connection between them is that they're both palpably lonely, isolated by horrible past events that are only hinted about in the premiere.  Miller and Liu do have a brother-and-sister chemistry that shouldn't inspire tumblr pages clocking down to when these two characters will finally hook up, but it's more than that.  They're both drowning in their own idiosyncracies and using each other as a life preserver.  Their relationship might be the thing that saves the show long enough for it to find its own voice.
With a lot more imagination and a better use of Sherlock's iconic elements, "Elementary" might be a decent show about the world's greatest detective and one of literature's best friendships. 
"Elementary" premieres on Sept. 27 on CBS at 10pm EST.
Grade: C