CBS Wins Appeal Over Janet Jackson's Super Bowl 'Wardrobe Malfunction' Fine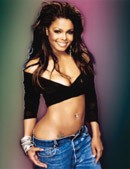 Bosses at CBS have won an appeal against the $550,000 fine they were slapped with following Janet Jackson's infamous "wardobe malfunction" at the 2004 Super Bowl.

The pop superstar's half-time performance at the big game, which aired on CBS, hit headlines when collaborator Justin Timberlake ripped off part of Jackson's top to reveal an almost bare breast and her pierced nipple.

The original indecency case was thrown out of court on the grounds that the incident, which lasted just nine-sixteenths of a second, was too fleeting to warrant a fine.

However, the issue was revisited in 2009, when officials at the 3rd U.S. Circuit Court of Appeals in Philadelphia, Pennsylvania were instructed to reconsider the Federal Communications Commission (FCC) penalty.

But the case has finally been put to rest - on Wednesday, court officials dismissed the issue and claimed that in imposing the fine, FCC bosses had broken their own rules which made "fleeting" indecency exempt from punishment.