CBS Renews 'Two And a Half Men,' Ashton Kutcher Gets Raise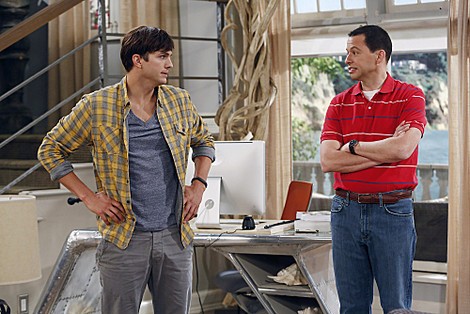 CBS has renewed Two and a Half Men, ensuring the long-running comedy show will get an 11th season. Star Ashton Kutcher has gotten a big raise, as well.
Kutcher will be making $700,000 an episode, according to Us Magazine (that's still less than Charlie Sheen's $1.2 million per episode at the height of his time on the show).
Further, Angus T. Jones has not been offered a full-time contract as of yet. According to the Hollywood Reporter, the two sides are "working on a deal," but producers may be looking to slowly work Angus out of the show with a part-time role. Jones infamously bashed the show despite his hefty salary working on it, appearing in a pair of YouTube videos describing the show as "filth." Jones has since released an apology.
The 11th season will be the third since Charlie Sheen left during a feud with showrunner Chuck Lorre.