CBS Announces Very Merry Yuletide Programming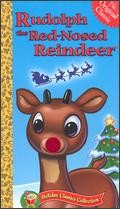 The annual Christmastime visits of
Rudolph The Red-Nosed Reindeer
and
Frosty The Snowman
highlight CBS's festive holiday programming which will also include the music laden specials "My Night At The Grammys," "The Victoria's Secret Fashion Show," "Movies Rock" and "The 9th Annual A Home For The Holidays With
Sheryl Crow
." "The 30th Annual Kennedy Center Honors" is also on tap in December.
Also slated for December is the two-hour television event "In God's Name" (airdate to be announced shortly), an exploration of the most challenging and complex questions facing society as seen through the intimate thoughts and beliefs of 12 of the world's most influential spiritual leaders. These diverse voices offer provocative, compelling and enlightening perspectives on a myriad of issues including the rise of terrorism, fanaticism, intolerance and war. The special is produced by acclaimed French filmmakers Jules and Gedeon Naudet and CBS's News' Susan Zirinsky, who last collaborated as the executive producers of the Peabody and Emmy Award-winning film "9/11."
CBS's Holiday Themed Programming in December:
Friday, Nov. 30 (8:00-10:00 PM, ET/PT)
MY NIGHT AT THE GRAMMYS - This new special, celebrating the upcoming 50th anniversary of The Grammy Awards, will present the top 25 Grammy Awards show moments of all time, as voted on by viewers, as well as the stories behind them, as told by the artists themselves.
Tuesday, Dec. 4 (8:00-9:00 PM, ET/PT)
RUDOLPH THE RED-NOSED REINDEER - The longest running holiday special in television history celebrates its 43rd anniversary in this digitally re-mastered version. Since 1964, millions of families have watched Rudolph and his friends, Hermey the Elf, Yukon Cornelius and the Misfit Toys, save Christmas. The classic "Animagic" special features a world-renowned musical score from Johnny Marks and the voice of legendary performer Burl Ives.
Tuesday, Dec. 4 (10:00-11:00 PM, ET/PT)
THE VICTORIA'S SECRET FASHION SHOW - The television debut performance of the Spice Girls and performances by Grammy Award-winning recording artists Kanye West and Seal are scheduled to be featured.
Friday, Dec. 7 (8:00-8:30 PM, ET/PT)
FROSTY THE SNOWMAN - Frosty, that "jolly, happy soul" whose old silk hat full of magic has turned him into a musical Christmas legend, once again demonstrates his unique showmanship. Narrated by Jimmy Durante, the special also includes the voices of Jackie Vernon (as Frosty) and Billy De Wolfe (Professor Hinkle).
Friday, Dec. 7 (8:30-9:00 PM, ET/PT)
FROSTY RETURNS
- The magic still in his old silk hat, the holiday season's perennially popular original dancing snowman continues his adventures and skates on the edge of danger. Jonathan Winters is the narrator with John Goodman as the voice of Frosty.
Friday, Dec. 7 (9:00-11:00 PM, ET/PT)
MOVIES ROCK - Beyoncé, Carrie Underwood, Sir Elton John, Fergie, Jennifer Hudson, Jennifer Lopez, John Legend, John Williams, Marc Anthony, Mary J. Blige and Nelly perform on this new entertainment special celebrating the powerful relationship between music and film.
Friday, Dec. 21 (8:00-9:00 PM, ET/PT)
9TH ANNUAL A HOME FOR THE HOLIDAYS WITH SHERYL CROW - Inspirational stories about adoption will be enhanced by performances by Crow, James Blunt, Carol King, Reba McEntire and others. Rene Russo will be among the celebrities telling touching stories about adoption to raise awareness for this important social issue.
Saturday, Dec. 22 (8:00-10:00 PM, ET/PT)
ELF
- Will Ferrell, James Caan and Mary Steenburgen star in this comedy about a man raised as an elf at the North Pole who is sent to New York in search of his true identity.
Wednesday, Dec. 26 (9:00-11:00 PM, ET/PT)
THE 30TH ANNUAL KENNEDY CENTER HONORS - Pianist and conductor Leon Fleisher, actor and writer Steve Martin, singer and actress Diana Ross, film director Martin Scorsese and songwriter/singer Brian Wilson will receive this year's honors. In this star-studded celebration, the 2007 Honorees will be saluted by great performers from Hollywood and the arts capitals of the world. Seated with President and Mrs. Bush, the Honorees will accept the thanks of their peers and fans through performances and tributes.