CBS 2013 Schedule: Robin Williams And Sarah Michelle Gellar Featured In New Comedy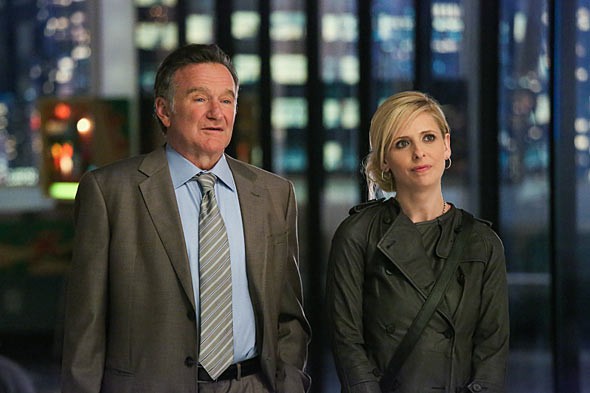 All bets are now in from the big networks as CBS today announced their fall primetime lineup. Comedy is their main focus and theme, as the network unveiled four new comedies and one drama for the 2013 – 2014 primetime slots.
The network is also bringing back some familiar faces in its new comedy "The Crazy Ones," starring Robin Williams, Sarah Michelle Gellar, Tony Shalhoub, Allison Janney and Will Arnett. The show will air at 9pm during the networks new two-hour block of comedy on Thursday nights.
Two new dramas have also been scheduled for Mondays at 10pm. "Hostages," is a serialized suspense thriller from executive producer Jerry Bruckheimer starring Toni Collette and Dylan McDermott, premieres in the fall, building to a season finale in January.  Soon after, "Intelligence," a high-octane action drama starring Josh Holloway, Marg Helgenberger and Meghan Ory, moves into the time period for the remainder of the season. 
The network also noted that CBS will finish the current season as the top-rated network in viewers for the 10th time in 11 seasons, #1 in the adults 25-54 demographic and #1 in adults 18-49 for the first time since the 1991-1992 season.
Here is CBS's full primetime fall lineup set for 2013-2014.

MONDAY

8:00-8:30 PM  HOW I MET YOUR MOTHER
8:30-9:00 PM  WE ARE MEN (N)
9:00-9:30 PM  2 BROKE GIRLS
9:30-10:00 PM MOM (N)
10:00-11:00 PM HOSTAGES (N)
INTELLIGENCE (Mid-Season) (N)


TUESDAY

8:00-9:00 PM  NCIS
9:00-10:00 PM NCIS: LOS ANGELES
10:00-11:00 PM PERSON OF INTEREST (NT)


WEDNESDAY

8:00-9:00 PM  SURVIVOR
9:00-10:00 PM CRIMINAL MINDS
10:00-11:00 PM CSI: CRIME SCENE INVESTIGATION


THURSDAY

8:00-8:30 PM  THE BIG BANG THEORY
8:30-9:00 PM  THE MILLERS (N)
9:00-9:30 PM  THE CRAZY ONES (N)
9:30-10:00 PM TWO AND A HALF MEN (NT)
10:00-11:00 PM ELEMENTARY


FRIDAY

8:00-9:00 PM  UNDERCOVER BOSS
9:00-10:00 PM HAWAII FIVE-0 (NT)
10:00-11:00 PM BLUE BLOODS


SATURDAY

8:00-8:30 PM  COMEDYTIME SATURDAY (N)
8:30-9:00 PM  COMEDYTIME SATURDAY (N)
9:00-10:00 PM CRIMETIME SATURDAY
10:00-11:00 PM 48 HOURS

 
SUNDAY

7:00-8:00 PM  60 MINUTES
8:00-9:00 PM  THE AMAZING RACE
9:00-10:00 PM THE GOOD WIFE
10:00-11:00 PM THE MENTALIST