Cate Blanchett And Mia Wasikowska To Make Directorial Debuts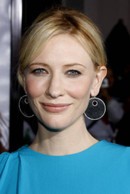 Actresses Cate Blanchett and Mia Wasikowska are making their directorial debuts by shooting shorts for a film adaptation of Australian author Tim Winton's "The Turning".

The two stars are among a total of 17 directors who will help bring the collection of short stories to life on the big screen. Producer Robert Connolly will be responsible for pulling the films together for an omnibus feature, about a series of characters whose lives are somehow intertwined, according to The Hollywood Reporter.

The news will come as a surprise for fans of Blanchett - the Oscar winner recently admitted she was putting off plans to step behind the camera because she fears she's too impatient to see a film to its completion.

She told Britain's Harper's Bazaar magazine, "There is a film I'd love to direct, but I just don't know if I've got the patience."