Catching Up With 'The Voice's' Eliminated Artists (Week 2)
NBC's The Voice said goodbye to more artists this past week: Tje Austin (Team Cee Lo), duo Josh and Nicole Johnson, better known as Elenowen (Team Blake), Angela Wolff (Team Adam) and Justin Grennan (Team Christina). They all dropped by after their dismissals to talk about the latest round of battles.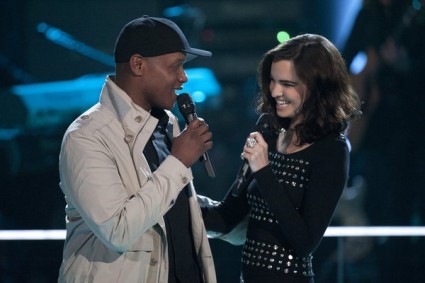 If you missed them earlier, don't forget to check out my earlier interviews from The Voice: last week's interview with the artists let go in Week 1, as well as my exclusive chat with Tim Mahoney.
I'll start with the same question from last week: what did you learn from this experience?
Tje Austin: I learned a lot from all the other artists. I liked seeing where we all are in our careers. It was very inspiring. What I've taken from this show is how great we all were, where I want to be in five years, what type of career I want to have. I'm just glad that I made so many great friendships. You know, everybody is so freaking awesome. This is like the best experience I've ever had in my life.
What was it like for you to work with your coaches?
Josh Johnson: We were just blown away. It's almost expected that they would come in and treat it like another paycheck, but they were totally there for us. They were there to help us. They were completely invested in the whole process. It wasn't just clocking in and clocking out. It was really refreshing.
Tje Austin: I was so freaking excited to be on Cee Lo [Green]'s team. It's amazing to be given this opportunity to work with someone of such amazing caliber. I was constantly in awe. He's such a great artist, a great writer, and I just wanted to take something away from that. It really helped motivate me to be in the music industry, to make my own mark, what type of career do I want to have? It was great when he said that he could see pieces of him in me and then to meet Monica. Nobody else can say that they've had this experience that we've had, to be around these artists. It was very inspiring and it just pushes me to do so much.
Josh and Nicole, how different was the experience of being on the show as a duo?
Nicole Johnson: it was very helpful to have each other to lean on. Not that we didn't like make fabulous friends while we were there; everybody that was in the show is so supportive. I honestly didn't feel like there was ever, that negative competition underlining kind of thing going on. As far as having me and Josh be together it was really great. I think it really strengthened our marriage in a lot of ways.
How much time did you have to prepare for these battle rounds?
Justin Grennan: You don't really have a whole lot of time. I can't remember exactly how long it was, but from the time you receive the song until the time you're performing it, I think it was about 48 hours or so. It could have been a little longer. It could have been 72 hours. I'm not sure.
Angela Wolff: I know it was really short. We had enough time on certain levels because you're just focusing on a portion of the song. But I think we all wished we had more time with the band because most of us come from a background where we do play live all the time, and you kind of get your groove going with a group of musicians that helps you get through shows. I think we had just enough time to pull it off because everyone sounded great, I thought.
Angela, you've been on record as saying that Javier is the best singer in the competition, so what was going through your mind when you were paired with him?
Angela Wolff: I was definitely worried. He's such an amazing talent. We all admire Javier. I think everyone would agree with me that he's just absolutely fantastic. I just wanted to enjoy being on stage with him and make it a great memory. I always had that little feeling that there was something could happen where I could surprise everyone or something could take a different twist. But my gut feeling was that Javier had it all the way. Javier has really been standing out along the way, even from before the show even started, just from the commercials, he was already almost a favorite. It's like, he's just one of those guys. He's just so good.
So I didn't have many nerves for that moment. After it was all over I think the nerves kind of rushed in right when it was done, but I was just excited to be on the stage, and it was nothing like the blind auditions. It was a totally different feeling. It was just so much fun. It felt really cool to be on that stage at that moment.
Justin, you didn't know the song that you were given ("Baba O'Riley" by The Who). Is there a song you wish you could've performed instead?
Justin Grennan: Yeah, pretty much any song would have been better than that song, you know? Something other than rock, which was pretty much all I got during the competition. I'm more of a soul singer and I really didn't feel like I got to show that side. A Stevie Wonder song, maybe "Signed, Sealed, Delivered," something with a little more soul really would have shown people that, "Damn, dude can actually sing that stuff."
But I was like, "That was pretty good for a guy that didn't know the song." I can pick songs up pretty quick and the melody on that song's pretty simple, so that was actually one of the nicer parts about that tune. I listened to it a million times over a very, very short period of time in between receiving the song and actually performing it. If I really need to know a song I just kind of immerse myself in it, listen and listen and listen and listen, and sing it a million times, sing as much as I can, and kind of put my stamp on it and that's what I did.
You've all spoken highly of your fellow competitors. Is it easier losing in these battles, where you're being judged by someone you know has experience in the industry, as opposed to something like an American Idol where popularity factors in?
Angela Wolff: We were all just kind of getting started. I'm sure everyone wanted an opportunity to sing more songs and kind of reveal themselves a little more. Walking away on that level is hard, butI didn't have too much shame walking away from Javier. He's so good that for me it was kind of comforting. It is a little comforting if you lose out to someone like Javier.
Everyone's so great that a lot of people have different opinions, you know? I mean it's pretty funny the feedback that they're getting from the show just because everyone has fans on the show. There are a lot of people that have to walk away, and their fans don't think they should, and so it goes both ways.
Tje Austin: I think that the battle rounds are probably the hardest to get eliminated from, because we made it through the blind audition. America knows who we are, and now it would be great to be eliminated by America's choice. It's very hard to get eliminated when I'm just up against one guy and I haven't even made it to the live round. I would love to know what America would have thought.
Justin Grennan: I feel the same way as Tje. I feel like if it was left up to America with my battle, it would have been a very, very different outcome, but that's not how it was. It was definitely the hardest round to do because we're all friends.
Do any of you have a favorite as far as winning the competition?
Josh Johnson: Everyone's so incredibly talented. As far as uniqueness, we really love [Beverly McClellan]. Just her energy that she brings. She's just a loving person and has such a great personality. She was everybody's friend on the show, and probably the most loving person we met.
Angela Wolff: I love Bev too. She's so awesome. Beverly is amazing. I can't help it, I'm kind of pulling for Javier, because he's a friend of mine and we had a lot of fun performing together, and I just think he's fantastic.
Tje Austin: I love Frenchie. I love Javier. I'm such a big fan of Javier. I went fanboy a couple times after I met him. Sara Oromchi, she's got such a great voice. Lily has a great voice. Casey Desmond is awesome. Everybody's so great, you know? And the four of us, I feel like we're going to be doing some great things in the future. I feel like we're all awesome, so I'm still rooting for us.
Justin Grennan: You know what, one of my better friends on the show is Jared Blake, and I'm really pulling for him, especially with his situation with his kids. I got to spend some time with him; he is just a real grounded, solid guy. I have a feeling that Javier's going to take the whole shooting match, but there could be a dark horse somewhere that we haven't heard everything from yet.
My thanks to Tje, Angela, Justin, Josh and Nicole for this interview! The Voice airs its next set of battle rounds tonight at 10 PM ET/PT on NBC.