Catching Up with Teairra Mari On Her New Album 'At That Point'

After being dropped by
Jay-Z's
label,
Ms. Teairra Mari
has been out of the spotlight. Now with her second album,
At That Point
, Teairra is ready to make a strong comeback.
SP:
Your second album is coming out and it's been a while since your last one. How as an artist do you feel you have grown from that last album?
Teairra:
I've matured a lot. That's why I've titled my second album, "At That Point." It's a reflection of me saying that I've been around and now I am finally confident as a woman. I'm comfortable in my own shoes and I don't care what people think. I just do me and I'm at that point of no return. So right now, I'm at that great point and that's where the title came from. It's a reflection of everything I've been through and I think I've matured tremendously and I think that shows in my music as well.
SP:
From the time that you've been off, you went back to high school to finish up and get you diploma.
T:
Yes, I went back to school. I was going to finish any way but I was getting home schooled but I wanted to go back and go to prom and walk on stage at graduation. So I went back and did all of that.
SP:
So while being a teenager with a busy schedule, you took this time just to chill out and be young. It's pretty important.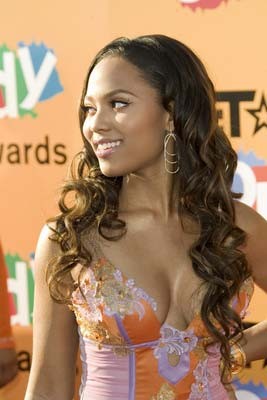 T:
It's very important. I'm happy and I appreciate it.
SP:
The sophomore album comes out April 7. How do you feel this album differs from that last one. What should fans and listeners expect? And how do you personally feel about the work you put out for this album?
T:
I love it. I always say that the first album was like my adopted child and that this one is my birth child. The first album was put together by DefJam and I really liked the album but I didn't have a lot of say like I do in this current album. I have a lot of say and I walked through this album and every song I am comfortable with, every song I love. I gave my all and that's really how it differs. It was very hands on and it shows who Tierra is.
SP:
You also be starring in the film The Magnificent Cooly-T with
Jackie Long
. Has acting always been an interest of yours?
T:
Yes, I've always been a little drama queen since I was a little girl. Very very over the top and dramatic. So acting had always been an interest of mine. When you're in school and they ask what you wanna be, I always said "singer/actress!" Filming that movie was very fun because Jackie Long is such a comedian and I just love filming and I definitely want to get more into that.
SP:
How does it differ from a career as a singer. Is it totally different from what you are used to doing?
T:
I mean it's definitely different worlds. You have your early mornings or you act and get on set and the cameras come on every day. When you sing, you're on the road, you're in the studio. It's different worlds, definitely. When you act, you're on different spots and you go to different locations. When you sing, it's all over the world and during a matter of a short period of time. I have to be here, there and everywhere.
SP:
When you're not on a hectic schedule, what does Teairra like to do for a fun time?
T:
I like to cook! I like to have little get togethers, and host for friends and family. I like to have little manicure parties with my friends and have champagne. Stuff like that. I'm very girly girl.
SP:
With the type of schedule you have now promoting the album, what's your day like?
T:
I have radio appearances and phoners all day long. Performances at the end of the night. That's pretty much a regular day.
SP:
You just moved to Warner Brothers from Rockafella, and you've mentioned in interviews before that it was a shock to be dropped by Jay-Z's label, how is this new relationship with your current label and are they giving you a lot of freedom as an artists to your fullest advantage?
T:
Yes they are. I love Warner. Everybody there, they're very supportive and they are there for the long run. They're with me for a long lasting career, not just living in the moment. So that's why I'm really happy God has brought me here.
SP:
When it comes to making big decisions, what helps you to succeed in your best interest?
T:
My best interest is to keep good people around me. I have to have good people around me because before I didn't and I was kind of lonely. I know people were just in it to get paid, now the people who are in it don't see that "I have to get paid." They're rich already and they just want to see me win and become a great woman.
SP:
What do you currently listen to ?
T:
I always love
Sade
. I listen to her everyday. Right now,
Jamie Foxx
- I just did a remix to one of his songs. I have Keisha Cole's album. That's what I'm really into now. Love stuff from the '90s and '70s. I like The Three Degrees. I love
The Supremes
. I love love love
Tina Turner
. That's me right there.
SP:
Name an artist no one would expect you to listen to a lot?
T:
Hmm. Oh I don't know, let me think! I love
Sam Cooke
.
SP:
With this new album, you had the chance to work with some really cool artists. Tell me about some of those experiences?
T:
On this album, I worked with people like the Warners. Rico Love, who did over half the album. I got a song with
Flo Rida
, which is my second single.
Pleasure P
. Nikki Menage, a female rapper out of Queens. Everybody has contributed greatly to the album in their own way and it was just a blessing to work with everyone of those individuals. I'm just blessed to have a second chance.
SP:
Speaking of your second chance, this is your comeback to the scene. What should people expect from you this time around?
T:
They can expect me to give it my all and to not stop. No more long breaks like that. I'm gonna keep going and keep going until I get it. That's what to expect.
SP:
What's the plan for the summer?
My new single with Flo Rida. I'm going to be on tour this summer. I don't want to go in to any specifics right now because it's not etched in stone, but I will be on tour this summer.
At That Point comes out April 7th.
Interview by
Angelica Castillo
Starpulse contributing writer