Catch the Digitally Remastered Wizard of Oz This November on TBS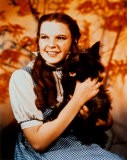 TBS is the first network to present the digitally remastered edition of
The Wizard of Oz
on Nov. 11, 12, and 13. This version of the perennial classic will feature the highest-quality video resolution available. According to Ken Schwab, senior vice president of programming for TBS and sister network TNT, "This digitally remastered edition of the movie provides a remarkably clear picture that surpasses even the original theatrical presentations."
The Wizard of Oz began life as a series of children's books by author L. Frank Baum. In 1925, it was turned into a silent film (starring
Oliver Hardy
as the Tin Man). Thirteen years later, MGM bought the rights to the story and set out to turn it into a musical. Originally, the film was to feature
Buddy Ebsen
as the Tin Man and
W.C. Fields
as The Wizard. But Ebsen was hospitalized after make-up tests caused an allergic reaction, and Fields had a scheduling conflict with another film at Universal.
From the outset, The Wizard of Oz was designed as a showcase for the studio's fast-rising teen vocalist,
Judy Garland
.
Ray Bolger
,
Jack Haley
and
Bert Lahr
were ultimately cast as the Scarecrow, Tin Man and Cowardly Lion, respectively. And
Margaret Hamilton
took the role of the Wicked Witch of the West, leaving her mark as one of the silver screen's most enduring villains, even though she had only 12 minutes of screen time.
Related Links:
The Wizard of Oz on Starpulse
More Movies on Starpulse