Catch 'Danny Bonaduce: Life Coach' On Your Cell Phone

CBS Mobile just announced plans for its first original animated program — "Danny Bonaduce: Life Coach" — which will premiere on the mobile video services of major U.S. wireless carriers on Nov. 12, with additional episodes released every two weeks.
Voiced by
Danny Bonaduce
, the eight animated episodes, each three to five minutes in length, will also stream on cbs.com and through online partners across the CBS Audience Network.
Recognizing that many celebrities could be headed off the deep end, generating headlines for all the wrong reasons — jail, rehab and losing child custody — "Danny Bonaduce: Life Coach" gives a rare insider look at today's top tabloid victims that might surprise some people. Each satirical vignette documents important life lessons given by Bonaduce to a Paris-Britney type, or any other public face in the news, and shows the results of his dubious counsel.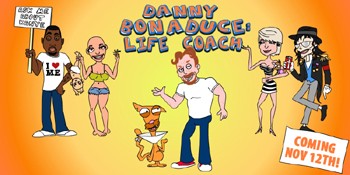 The first episode, "Britney Explained," leaves people wondering whether she is truly out of control or simply following the keen strategy of "Danny Bonaduce: Life Coach". A man of many experiences, Danny's animated character relies on weight lifting, smoking, and his own tumultuous past and present, along with the advice from Catchphrase Cat, his trusted sidekick, to inadvertently lead these celebs astray.
Commenting on his new venture, Bonaduce said "Do as I say…not as I do!"
"We feel a strong social responsibility at CBS Mobile, especially for celebrities in need. So we thought, what better way to help than providing timely advice from Danny Bonaduce, a life management expert, on a most personal medium — the cell phone?" joked Cyriac Roeding, Executive VP CBS Mobile. "So there you have it. Whenever a celebrity has a problem, watch Danny's new episode a week or two after because we like to help in real-time."
"All kidding aside," added Roeding, "we're not joking about creating buzz worthy, up-to-date original content at CBS Mobile and CBS Interactive."
In addition to being a fun piece of content for people to watch on their phones and online, "Danny Bonaduce: Life Coach" will also feature interactive and made-for-mobile elements creating a new and unique entertainment experience. Fans will be able to sign up for regular life coaching, receiving offbeat, comedic messages — directly from the "Life Coach" himself, about how to "get it together." Online audiences will be able to enjoy the Life Coach Widget where they will have the ability to share live video with others as well as interact through file sharing, texting, blogging, polling and comments.