Cat Power Axes Israel Concert Due To Political Unrest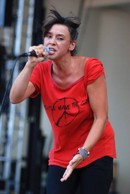 Singer Cat Power has axed her upcoming concert in Israel due to political unrest in the Middle East.

The star was set to perform in Tel Aviv at the Reading 3 club on Sunday but she's now pulled out of the gig because she feels uncomfortable hitting the stage as tension mounts between the Israeli and Palestinian governments.

Apologizing to fans in a post on Twitter.com, she writes, "DUE TO MUCH CONFUSION IN MY SOUL,PLAYI.NG FOR MY I.SRAELI. FANS W/ (with) SUCH UNREST BETWEEN I.SRAEL&PALESTI.NE I CAN'T PLAY,I FEEL SICK IN MY SPIRIT XX"

Power isn't the only musician to bow out of a scheduled appearance in the region is an act of solidarity with protesters - Elvis Costello and The Pixies have previously canceled shows there.