'Castle' Recap: He's Back (Whew!)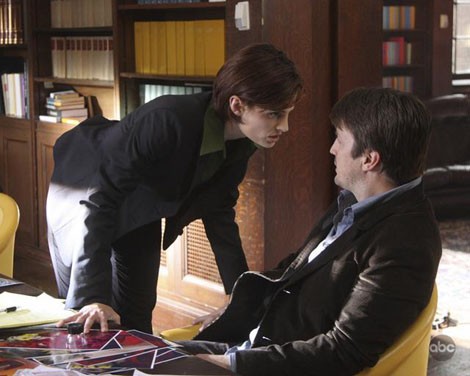 Occasional Castle viewers know that the ABC show is a crime detective/comedy series with a least one victim, one murderer, and a case to solve. But for us real Castle fans, we know that heart of the show is the comedy and romantic tension between the two main characters, crime novelist Richard Castle (Nathan Fillion) and NYPD Detective Kate Beckett (Stana Katic). And, oh, was the tension ever so thick in last night's season three premiere.
If you forgot, Beckett was kinda sorta dating a robbery detective (Tom Denning) in the last few episodes of last year's wonderful season. Clearly, Castle was not happy about Beckett's love interest. Thus, in the season finale, Castle decided to "quit" the force for the summer to spend, ahem, "time" with his ex-wife and to write his second Nikki Heat novel – right after Beckett broke up with her detective, speculating that she was thisclose to telling Castle how she really feels about him. Ugh.
In last night's premiere, "A Deadly Affair," Castle gets arrested (yes, by Beckett) for murdering a personal friend of his (seriously, he was standing over her in her apartment holding a gun) within the first five minutes. Unfortunately, Castle also gets the cold shoulder from Beckett's team at NYPD for abandoning the force for three months, specifically Beckett, and not having the audacity to call her during all that time. The nerve.
Within 15 minutes, Castle is set free from his arrest, much to the dismay of Beckett's right hand men, detectives Javier Esposito (Jon Huretas) and Kevin Ryan (Seamus Dever). Like old times, Castle decides to help Beckett anyway solve the murders of two women (including Castle's friend) and a young man.
The three victims are connected by an affinity with underground clubbing and making counterfeit money. Long story short, the killers were (spoiler alert!) the victims' underground club troupe leader, a blonde exotic dancer named Kitty Cannery, and her tool of a husband.
Another long story short, Castle and Beckett figuratively kiss and make up, and Castle is back on force. And the world heaves a collective sigh of relief.
Last night's season opener was funny and amusing as usual, so expect great things, particularly the acting from the wonderful cast and the show's sharp, witty writing, in this season.
But the big question hanging on everyone's lips most likely is: Will Beckett and Castle finally get it on this season? The simple answer: No. That's the charm of Castle. We love seeing Castle and Beckett bicker to the point of almost getting it on right there in the precinct (or the crime scene, but that would be tacky). But knowing that that won't happen anytime soon makes for some good TV.