Cast Talks Soviet Sub Thriller 'Phantom' At Red Carpet Premiere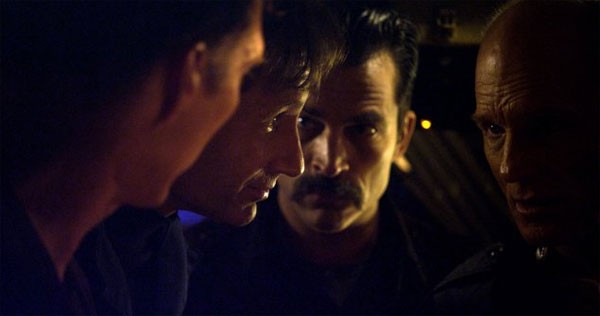 Starpulse was at the TCL Chinese Theater in Hollywood at the red carpet premiere of Todd Robinson's film, Phantom, starring Academy Award nominee Ed Harris and Golden Globe winner David Duchovny. The thriller, also starring William Fichtner, Lance Henriksen and Johnathon Schaech focuses on a captain of a Cold War Soviet missile submarine (played by Harris) who has secretly been suffering from seizures that alter his perception of reality. After leaving his family for a classified mission, he is haunted by his past and forced to come face to face by a group of KGB agents set on seizing control of the ship's nuclear missile. We caught up with Duchovny, Schaech and a few other stars who were out supporting Phantom.
Perrey Reeves (Entourage) who just completed a pilot for Jerry Bruckheimer in New York called Secret Lives of Husbands and Wives was at the premiere and shared with us the craziest rumor that she has ever heard about herself. "I read once that I was 5'10 ½' which is totally false because everyone in Hollywood is a lot littler than you think!"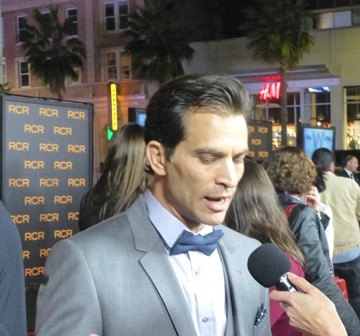 Johnathon Schaech told us that he wanted to be a part of the film because the screenplay was one of the most thrilling and compelling screenplays that he has ever read. Johnathon has come so far since playing 'leather coat guy' in The Sweetest Thing, so we asked him what his key to longevity in Hollywood was. "I am most famous for quitting and I think the secret is to never quit." We asked him what the one thing he always had with him on the red carpet was and he told us that it was the cross he wore around his neck. What's up next for Johnathon? "I am on a television series called Ray Donovan on Showtime. I am not a movie star in real life but I play one on television, that's all I can say about the show but I am very excited about it." Carl Weathers (Arrested Development) is as excited as we are about the fourth series of Arrested Development which will be exclusively on Netflix. Carl tells us that he will be in the fourth season and is very excited because he never thought it would happen.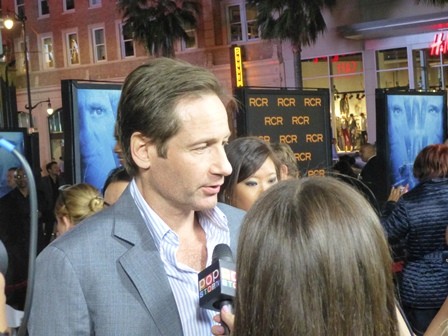 David Duchovny, who plays a KGB agent in Phantom says he never played cops and robbers when he was a kid but playing a bad guy in the film was an interesting ride. "At the time of the Cold War you had the good guys and the bad guys who are evenly matched and the stakes are high which make for a good movie." Because they actually filmed in a submarine, the cast had to be in tight quarters and David told us that after work no one really hung out with each other because we were still on the sub, but he did play catch with Ed Harris outside.
We had so much fun on the red carpet with the stars of Phantom and all the celebrities who came out to support the film. Make sure to check out Phantom, now playing in select theaters.