Cast Members Give Exclusive Details Of New FX Drama 'Justified'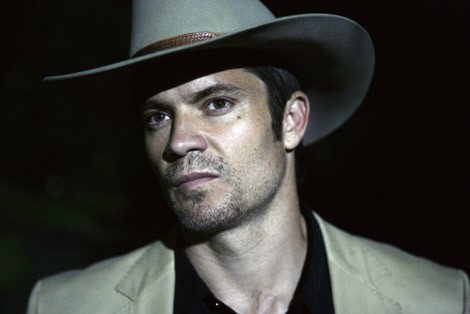 At the Hollywood premiere of the new FX series "Justified," Starpulse caught up with the cast members for exclusive details about their characters, the show, and the drama!
The new series, created by Kurt Sutter ("Sons of Anarchy"), airs March 16 on FX. Timothy Olyphant stars as Raylan Givens: a blue-blooded Deputy US Marshal who rose above his complicated past to become a respected law enforcement officer, leaving behind his hometown in the process. After shooting a gun thug in Miami, he is stripped of his hero status, and the Marshal service punishes Givens by sending him back to the one place he vowed never to return to: Kentucky.  Raylan quickly realizes his toughest job might now be law enforcement, but dealing with his past.
But FX fans don't need to worry: the drama isn't all psychological. Nick Searcy, who plays Raylan's boss, enthused: "It's a great show! It's a lot of action, and a lot of shooting, yelling and screaming!" Page Kennedy (Weeds), who plays a hitman on the show, agreed: "My character is definitely around to stir up some mess."
Starpulse asked the show's star, Timothy Olyphant, what attracted him to the character: "He's kind of old-school, and seemed really fun to play."
Everyone mentioned not only how many great guest stars the show has, but how much fun they had in their roles. "I play Raylan's ultimate nemesis and ultimate confidant," said Walton Groggins, of his character Boyd Crowder. "What's so exciting for me is that it's a character who you think you know in the pilot, only to find out in episode two that he's done a complete 180."
Searcy echoed that statement: "What's good about my character and [Timothy's] is that I see a lot of myself in him, so I end up seeing where he's coming from- even when he does something wrong."
When questioned about working with the handsome and charismatic Olyphant, none of the female cast members complained. Natalie Zea, looking stunning in a sequined blue mini-dress, told Starpulse that she doesn't work with the rest of the cast. As Raylan's ex-wife, her scenes are only with Timothy Olyphant. She laughed: "I'm in a Timothy vacuum, and I will not complain about that!"
Graham Yost, a writer for the show, hinted towards the kind of dramatic twist-and-turn storylines viewers can expect: "There's actually one really interesting story about a fugitive who tried to give up the criminal life and became a dentist, but…" Yost described an outrageous, daring and bizarre true series of events, which they ended up adapting as a storyline for an episode.
Curious? You're just going to have to tune in to "Justified", premiering tonight March 16th on FX!
Story by Melissa Liznick
Starpulse contributing writer