Cast & Crew Talk 'Modern Family' At PaleyFest

"The way I see it, 'Modern Family' is the story of these three families that is being told documentary style," co-creator Steven Levitan explained during opening night of PaleyFest 2010 last Friday. "But that is apparently up for debate. The thing is, if I believed these families would allow cameras into their homes, into their children's rooms, for these intimate moments, I wouldn't like them as much!"

Funnyman Ty Burrell, who plays hapless dad Phil Dunphy, agreed, adding that he likes that the show hasn't tried to explain the breaking-the-fourth wall elements of the show. He doesn't consider those moments where the characters talk directly to the camera interviews, "The Office" style, but instead as if the family member is turning to another family member to say "Are you seeing this?" "The audience is like a distant relative!"

And on February 26 at the Saban Theatre in Beverly Hills, the audience of almost 2,000 really was like family while screening a brand new episode ("Fears") of the show. We laughed along with Phil as he brainstormed what treasure he thought might be under the house; we felt for Manny (Rico Rodriguez, who was not in attendance), who didn't want to attend a dance or go on a rollercoaster; and we cried (well, because we were laughing so hard) when Lily's first word was (*spoiler alert*) "Mama."

Moderated by Billy Bush, the panel of cast and creatives from the hit new series spilled secrets from the set as well as how working on such a runaway hit has affected their real lives. Only Eric Stonestreet appears to have hit a slight road-bump with his role as big gay teddy bear Cam. Straight in real life, Stonestreet joked that although he has "quite the hole" to dig himself out of when attempting to meet a woman, he is "appreciative of all of my fans! No matter how much hair they have on their back, or chest...or lip!"

And Stonestreet provided much of the comic relief for the evening, keeping everyone - audience and panelists both included - laughing so hard they shed a few tears. He not only treated the crowd to a spontaneous "transformation" into Cam as Director Jason Winer yelled "Action!" from across the stage, but he also joked about his "big reoccurring pimple," for which he apologized after the episode was shown on a fifty-foot screen. And as Burrell was telling a touching story about a twenty-something fan who came up to him and told him how important the show means to him and his siblings, Stonestreet couldn't help but crack: "We're not curing cancer, but we're giving Rickets a good shot!" It was like sitting in the Dunphy living room for a slightly unorthodox Easter Sunday brunch!

"Modern Family" touches fans and warms hearts from all parts of life, perhaps most simply because it does not feature a traditional, nuclear family. Levitan considers Cam and Mitchell's relationship to be the "most conservative family" on the show in the way the two go about dealing with issues of parenthood. But in many ways, their coupledom is the most conservative PDA-wise, as well. Ferguson and Stonestreet faked a kiss on stage in response to the lack of on-screen lovin' the duo seems to share, but when asked directly about the reason behind it, both just pointed to the fact that their story is really much more about being young, first time fathers.

While Cam and Mitchell may have a more serious storyline, Sofia Vergara (Gloria) said the key to any good comedy is "to not be afraid to look like a fool." Bowen quickly quipped back: "Oh really? Just when do you look like a fool!?" Bowen has become the go-to for physical comedy, after all-- from being unable to work a television remote, to walking into her daughter's room in her underwear while a video chat was open, to getting her trenchcoat belt stuck in an escalator when she wasn't wearing anything underneath (and two of those were admitted to be pulled from the writers' real lives)... In fact, Levitan said that this year "just about every pilot script breakdown [made] a call for 'a Julie Bowen type,'" which the incredibly humble Bowen responded, "was the best compliment" anyone could pay her.

There was no definitive verdict on if fan favorite guest stars like Shelley Long or Elizabeth Banks would be reprising their roles. Recent reports that the cast would be traveling to Maui to film a very special end of the season episode were also not addressed. But one who will be popping up again soon is Phil's dad, as played by Fred Willard!! "At the Golden Globes, it was just crazy the caliber of stars coming up to us saying they wanted to be a part of the show," Levitan said, "but I don't want it to just be a parade of guest stars. We have such immensely talented actors in our cast, and the show is really about them and their relationships."

They say the true measure of the success of a show, though, is just how far and wide it can cast its net and still reach people. And the success of Modern Family, therefore, can probably be summed up in one simply story that Burrell shared during the evening: "I was walking in Central Park, and I was going through one of those tunnels, and there was this homeless guy inside, playing the fiddle. He was really into it, fingers flying, and all of a sudden he looked up, pointed at me, and said: "Never since Frasier, has a show come on the air knowing its tone so completely."" If that doesn't explain just how many people have connected with this show, I don't know what will!
See more photos of "Modern Family" here!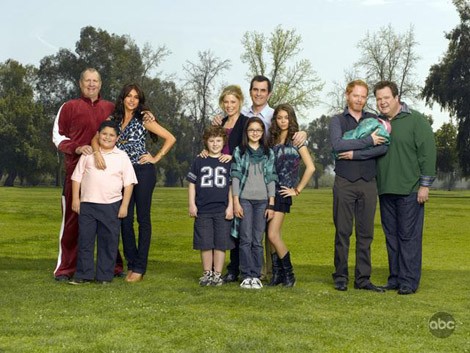 Story by Danielle Turchiano

Starpulse contributing writer