Cassie Steele Stars In New Lifetime Movie 'Sorority Surrogate'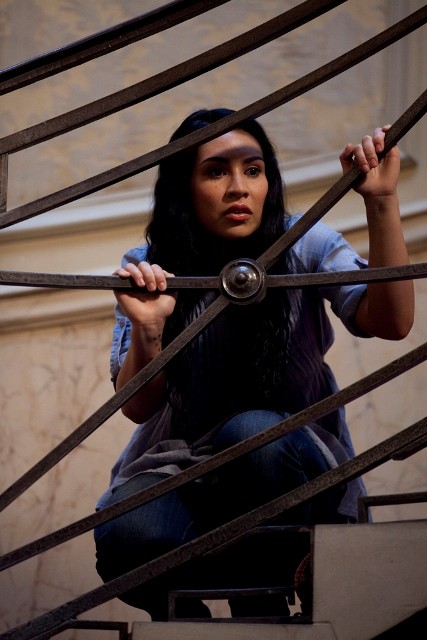 Lifetime's newest original movie, Sorority Surrogate, details what happens after a college student named Valerie (played by Cassie Steele, The L.A. Complex) agrees to become a surrogate for a wealthy couple.
Unfortunately for Valerie, following the couple's tragic deaths, she has to contend with the manipulative grandmother who wants to control her life and that of the unborn baby. BFTV talked with Cassie on Saturday to discuss the flick.
The movie served as a bit of a transition for her coming off her last TV role. "My character on L.A. Complex, Abby, was the type of girl always losing control. Sorority Surrogate was the home of many characters who want too much of it," Cassie told us. "I appreciated the change."
After playing a high school student in the long-running Degrassi series and a young aspiring actress in L.A. Complex, this part is one more step on Cassie's journey from teen roles to adult ones. "It's like looking into a mirror and saying, 'Damn it, I'm getting older,'" she remarked. "Since I usually play characters close to my age, the growth comes naturally to me."
Being close in age to her character isn't the only reason that Cassie can identify with her. "Valerie made a lot of impulsive decisions," she commented. "Unfortunately, so do I."
"I'd like to think I understand courage and courage for the people around you a bit better," she continued. "If a situation came to be that needed it, I hope I would apply what I've learned."
Hopefully Sorority Surrogate will open further doors for Cassie, who in addition to acting is also continuing her musical career; her new single 'Mad' releases on April 1. What is she hoping is on the horizon?
"I'd really love to do a period piece, one with swords, blood and guts," she told us. "I feel like I've played a girl in school for over a decade; I have. I'm ready to hop out of my comfort zone and into the mysterious unknown."
Sorority Surrogate airs tonight at 8 PM ET/PT on Lifetime.
(c)2014 Brittany Frederick. Appears at Starpulse with permission. All rights reserved. No reproduction permitted. Visit my official website and follow me on Twitter at @tvbrittanyf.